fix bar
fix bar
fix bar
fix bar
fix bar
fix bar
What
What do you see? And how do you see it?! How do you hear? Go on a fascinating exploration of your senses with Phil and Izzy to uncover how science helps us understand more about how we interpret the world around us.
Who
We got up close and personal with the worlds of augmented reality and virtual reality with computer science researchers in UCD, and put our taste buds to the test in the UCD Sensory Science Lab!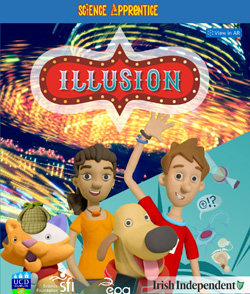 Coming Soon !

Interactive book
Collect your copy of Illusion with the Irish Independent in SuperValu stores on the 17th of November.Check back to this page soon to read the full book !