UCD Strategy for Research, Innovation and Impact (2015-2020)
University College Dublin has launched its strategy for research, innovation and impact 2015-2020.
Click here to read the strategy.
UCD is strongly committed to excellence in research and innovation and to delivering impact locally, nationally and globally.
We build on an outstanding base of scholarship within all our disciplines, and in the interdisciplinary spaces that develop from them. From this, we deliver knowledge and ideas that inform policy, support enterprise, deliver innovation, and enrich culture and society.
The quality of our research and innovation is apparent in
our research publications, which have a citation impact 67% above world average;
landmark scholarly contributions such as the five-volume Art and Architecture in Ireland;
the fifty new and established companies that have chosen to locate on our campus to work with our research community, and the thousand more that partner with us;
our people: the faculty, research staff and support staff who create our success stories, and the students they inspire.
It is because of these and other achievements that UCD is ranked as the number one Irish university for research.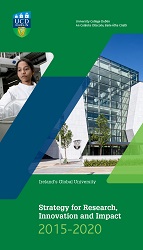 UCD Strategy for Research, Innovation and Impact 2015-2020
In November 2014, UCD President Andrew Deeks launched the UCD Strategy 2015-2020. That document sets out ten key objectives which will shape planning at all levels of the University and will allow us to measure progress towards the achievement of the University's vision.
Research, innovation and impact are central to the UCD Strategy, underpinning all ten objectives. This document outlines UCD's Strategy for Research, Innovation and Impact for the period 2015-2020.
For each of the ten University objectives, it describes how our activities in research, innovation and impact will contribute to the achievement of that objective, and identifies the key associated actions.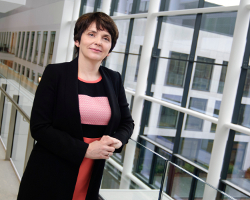 Professor Orla Feely, UCD Vice-President for Research, Innovation and Impact
Over the period of this strategy, we will retain our commitment to excellent research in all its manifestations, to delivering innovation and to growing our impact.
We will build our connections, both internal and external, engaging stakeholders in new and exciting collaborations.
We will align around six major research themes, presenting a unified and accessible interface to partners, and support the development of emerging themes where we see the combination of excellence, scale and opportunity.
Above all, we will nurture talent, supporting all in our community to deliver on their ambitions in an atmosphere of creativity and integrity. The results will be evident in the impact we deliver to a dynamic economy and an informed, reflective society.
Professor Orla Feely
UCD Vice-President for Research, Innovation and Impact
October 2015