NexusUCD Facilities and Services
NexusUCD comprises two four-storey blocks with over 100 high-quality, modern offices which range in size from 11 sq.m. to 80 sq.m. and has a total gross floor area of 5,260 sq.m.

An occupied office at NexusUCD

Other services provided at NexusUCD include:
Facilitated access to world-class researchers, state-of-the-art laboratories, equipment, specialised personnel and graduates
Flexible occupancy arrangements (short, medium or long term)
A suite of meeting rooms capable of holding 8 to 50 people
High-speed internet access connected to the UCD data network
Reception facility, including delivery and collection of post
24 hour access, full 24 hour security cover including controlled access via swipe cards
Underground and overground parking
Access UCD facilities such as bookshops, library, bank and restaurants and preferential rates to UCD's sports and fitness complex for client companies.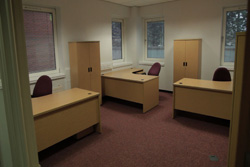 An unoccupied office at NexusUCD
For further information download our NexusUCD flyer.
For further information or to arrange to visit NexusUCD please contact:
Helen Mc Grath
Operations Manager,
UCD Research and Innovation
t: +353 1 716 3711
e: helen.mcgrath@ucd.ie