Profile - Professor Oliver Gassmann

Oliver Gassmann has been Professor of technology and innovation management at the University of St. Gallen (HSG), Switzerland since 2002. He is managing director of the Institute of Technology Management, the largest institute at HSG. Between 1996 and 2002 he worked for Schindler and led its corporate research as Vice-President, Technology Management.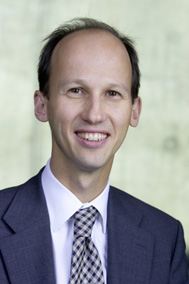 He has published over 300 publications and several books on innovation, including Profiting from Innovation in China (December 2012).
During the last 10 years he has consulted with several DAX companies in growth strategies and innovation.
He currently serves on several boards, including R&D Management (editorial board); BGW St. Gallen-Vienna (co-founder, member of board); research lab GLORAD Beijing-St. Gallen (co-director); Economiesuisse (member); Project Management Academy Wiesbaden (chairman); Schindler (member of audit expert group); HSG Research Committee (president); Hoffmann-Neopac (member of the board) and Zühlke Group (vice president of the board).
In 2009 was identified as one of the top 50 ranking researchers by IAMOT in Orlando.
‌
SHARE