UCD Maths Support Centre (MSC)
Maths Support Centre Video
Have a look at the short video below to see what the Maths Support Centre can do for you!
User's Guide - How to get the best from your MSC session
1. Log in to the MSC database using one of the two log in computers.
You will need to know:
(a) your student number,
(b) your programme of study e.g. Science, Engineering etc,
(c) your module code for which you seek help e.g MEEN10030 Mechanics for Engineers.

2. Take a ticket from the right hand side of the ticket book.

3. Take a seat and prepare your question for the tutor; this may mean opening Blackboard on your laptop or
taking out your physical notes.

4. Listen for the tutor to call your ticket number and raise your hand when it's called.

5. While you are waiting for the tutor to see you use this time to articulate exactly what it is you are having an issue with
and perhaps try Googling it or checking out the video or sheet resources in the MSC.
Here is a document which gives more details about the MSC: MSC Advert.
Timetable
The MSC is closed from Monday March 9th to Friday March 20th.
The MSC will also be closed on Good Friday April 3rd and Easter Monday April 6th.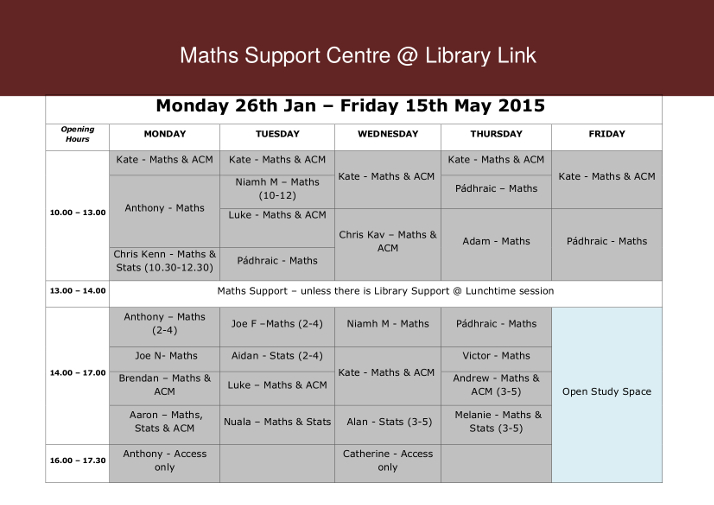 A larger version of this timetable can be downloaded here: PDF version of the MSC timetable.
The MSC tutors are all experienced tutors and also tutor for the UCD School of Mathematical Sciences. To find out more about each individual tutor you can find their bio and picture here: Tutor Biographies.
Several of our tutors have experience with mathematical software, full details are here: Tutors' Software Expertise.