Posted 24 February 2014
UCD win Irish Senior Cup
UCD have claimed the first of two national titles on offer following a 2-0 win against Pembroke Wanderers in the 2014 Irish Senior Cup Finals at the National Hockey Stadium in University College Dublin.
Nikki Evans and Anna O'Flanagan broke the half time 0-0 deadlock and scored for UCD early in the second half. UCD threatened the goal several more times only to be denied by strong saves off the line by Rachel Scott, Katie O'Byrne and Stella Davis.
The closing minutes were a matter of damage limitation for Pembroke Wanderers who worked hard to keep the defeat by the favourites UCD to 2-0 by the time the final whistle sounded.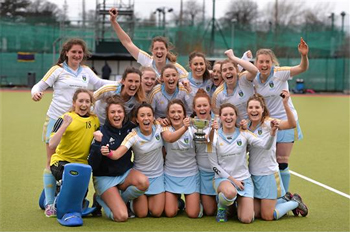 PEMBROKE: S Davis, K O'Byrne, C Murphy, R O'Brien, A Ward, R O'Reilly, M Horan, J Collins, R Scott, C Mulcahy, F O'Donovan. Subs: A O'Neill, C Foley, S Carey, E Horan, N Douglas
UCD: T Ellis, S Greene, L Ewart, N Evans, B Flannery, K Mullan, A O'Flanagan, J Deacon, E Beatty, S Robinson, G Pinder. Subs: K Collins-Smyth, N Atcheler, C Hill, E Carey, D Duke.
More success for UCD in Sport
UCD won the Badminton Intervarsities hosted by Dublin City University.
UCD Karate Club won the All Ireland Karate Intervarsities bringing the Intervarsity Cup back to UCD for the 4th year in a row.
UCD Men's cross country team (athletics) won the colours against Trinity College Dublin.
UCD sailors won the National Intervarsity Team Racing championship. The team consisted of 3 sailors from our SYWoC team Philip Doran, Conor Murphyand Bella Moorehead.
UCD's Martin Mulkerrins rewrote the history books by winning the USHA Collegiate Handball National title for the third time.
Collingwood Cup Centenary
The Collingwood Cup is due to kick off tomorrow (25 Feb) as UCD hosts the prestigious soccer competition in its Centenary year.
(Produced by UCD University Relations)