Posted 28 March 2014
Albie Sachs awarded UCD Ulysses Medal
Anti-apartheid campaigner and former judge of first constitutional court in South Africa, Albie Sachs has been awarded the UCD Ulysses Medal. The award which is the highest honour that the university can bestow recognises his global contribution to human rights.
In 1988, South African security agents targeted Sachs in a car bomb in Mozambique. He lost his right arm and was blinded in his left eye. He survived and saw apartheid end. After recuperating in the UK, Sachs returned to South Africa and played a central role in drafting its democratic constitution. In 1994, Nelson Mandela appointed him a judge in the new constitutional court where he made several landmark rulings.
"With this medal we honour those whose work has made an outstanding global contribution," said UCD Professor Imelda Maher, Sutherland Chair in European Law, University College Dublin, who delivered the official citation for the award.
At the event, Albie Sachs spoke about the design of the Constitutional Court of South Africa. He outlined how the building has come to symbolise the new constitutional democracy in South Africa. It is situated where an old fort prison once stood, and acts to remove the negativity of the area and replaces it with a positive symbol of South Africa's future.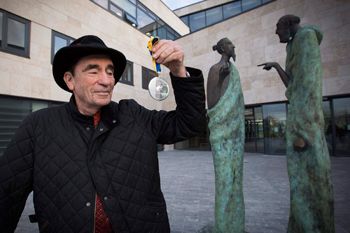 Albie Sachs pictured outside the UCD Sutherland School of Law after receiving the UCD Ulysses Medal at University College Dublin
"This you did in the dark days of apartheid when you were a solder for liberation – as your father had wished for you as a small child, when recovering from a botched but devastating car bomb, when whistling in solitary confinement and hearing your tune completed for you by another prisoner elsewhere within those prison walls. You did not lose sight of the promise of law, and, now with creative brilliance have given expression to that through the constitution, the court and its building," she said.
The UCD Ulysses Medal Medal was inaugurated as part of UCD's sesquicentennial celebrations in 2004 and celebrates the creative brilliance of our alumnus James Joyce.
Previous recipients include: World leading intellectual and political activist, Professor Noam Chomsky; Nobel prize-winning poet, Seamus Heaney; former US President, Bill Clinton; Irish playwright, Brian Friel; US philosopher, Professor Hilary Putnam; and founder and executive chairman of the World Economic Forum, Professor Klaus Schwab.
(Produced by UCD University Relations)