Posted: 11 April 2006
Engineering Experiments in Space
The near-zero gravity conditions in orbiting spacecraft such as the manned International Space Station or on board unmanned European sounding rockets, present a unique environment for doing scientific and technical research on phenomena which are strongly influenced by gravitational forces on earth. These particularly include processes involving a fluid phase, such as foam formation, combustion, boiling, solidification and cardiovascular circulation.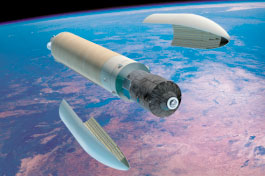 Europe's vehicle for resupplying the International Space Station: in combination with ESA's new Ariane 5, the 20.5 t, 8.5 m-long Automated Transfer Vehicle (ATV) will enable Europe to transport cargo to the International Space Station. Picture courtesy: ESA - D.Ducros.
With an emphasis on a new family of high performance metals known as intermetallic alloys, the work being done at UCD to design experiments on alloy solidification to be implemented in space will be presented. The team development process for space hardware will be illustrated. Effects of gravity on the evolving microstructure will be discussed, and progress on computer simulation outlined. An update on the current availability of transport facilities for upload and return of personnel and equipment to/from space will be delivered. The research is funded by the European Space Agency and the European Commission.
Presented by Dr. David Browne, C.Eng.
UCD School of Electrical, Electronic & Mechanical Engineering
6:30 pm, Tuesday 18th April 2006
Engineers Ireland, 22 Clyde Road, Ballsbridge, Dublin 4.