Posted: 27 April 2006
Advanced Paramedics Reach New Heights
The bar on pre-hospital care training in Ireland was raised this week when a group of 29 advanced paramedics were awarded the Higher Diploma in Emergency Medical Technology and Advanced Paramedic Certification at a ceremony in O'Reilly Hall, UCD on 25th April 2006.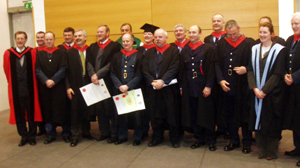 Pictured: Advanced Paramedic Training Programme Graduates with Professor Bury, Programme Director, Mr Brian Bruno, Advanced Paramedic Instructor, and Dr Mags Bourke, Course Director.
Having trained to carry out advanced interventions such as emergency airway management and cardiac/respiratory management, and to assist in some trauma situations by administering fluids which in some cases are life-saving, paramedics who complete this programme will significantly
contribute to the improvement of pre-hospital care for patients who suffer serious injury or illness. And following an amendment to the law last August, advanced paramedics can now administer up to 20 different types of drugs.
Advanced paramedics play an important leadership role in managing emergencies and in contributing to the development of the ambulance services and pre-hospital care in Ireland.
The Centre for Immediate Care Services (CICS), a division of UCD School of Medicine and Medical Science, and the National Ambulance Training School (NATS) are responsible for the development and delivery of the programme. Approved and funded by the Pre-Hospital Emergency Care Council (PHECC) and the Department of Health and Children, the programme enables advanced training for EMTs to keep up with developments in medicine, health service reforms and community needs.
CICS was established to provide a national centre of excellence for research, development and training in pre-hospital emergency care. The first ever third level training programme specifically designed for emergency services personnel was introduced in Ireland in 1996 as the result of a landmark agreement between UCD and the National Ambulance Training School. Since then some 700 members of the ambulance services, the army and the air corps have been awarded the Diploma in Emergency Medical Technology (DipEMT).