UCD launches new crest.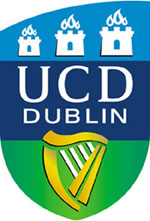 "Celebrating the past, creating the future"
As part of the strategic planning process and as an expression of the university's objective to become one of Europe's top universities, UCD has undertaken a rebranding which reinforces its strengths in terms of academic excellence and national significance.
The university undertook market research among students, staff, graduates and the outside community on their perceptions of the university and its identity. The research showed that the idea of a crest was liked but that there was low association between the crest and the name of the university. The research also showed that people had a strong affection and affiliation with the name "UCD" and that there would be a value in incorporating the name into the crest. Consequently the university has adopted UCD as its name and will use this prefix before all academic and research unit names.
The revised crest focuses on the strong and powerful images that match the perceptions of the university. The redrawn crest reflects a forward looking confidence while including iconic images representing the university's heritage and influence.
The revised crest incorporates the most important symbols from the original. The harp on a green background represents the university's national role in Ireland. The three flaming castles on blue represent the capital city and the inclusion of the word Dublin into the crest reinforces the status of the university and its sense of place. The use of the word Dublin also overcomes confusion with other universities internationally.
The university is saying clearly that the name by which it is known is UCD. The inclusion of the UCD name helps to create a "master brand" that replaces the multitude of individual identities that had grown up over the years.
The existing crest was drawn in the 1940s and is based on the original heraldic crest bestowed on the university in 1911. This original crest will be reintroduced and used for ceremonial purposes.
Information on UCD's new identity is available at www.ucd.ie/visualidentity