UCD spin-out ChangingWorlds opens new
R&D Centre at NovaUCD.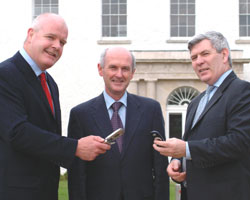 Announcing the opening of a new R&D Centre at NovaUCD by UCD spin-out ChangingWorlds (l-r), Vincent Ryan, Vice-President, Sales & Marketing, ChangingWorlds; Dr Pat Frain, Director, NovaUCD and Luke Conroy, CEO, ChangingWorlds.
ChangingWorlds®, the market leading provider of intelligent personalization technology for mobile telecommunications operators, announced the opening of a new R&D Centre at NovaUCD, the Innovation and Technology Transfer Centre at University College Dublin (UCD) on Tuesday 2 August 05.
ChangingWorlds will initially employ a team of ten highly qualified software engineers at its newly established R&D Centre, who will collaborate with researchers at UCD's Smart Media Institute to build a pipeline of advanced personalization technologies for the mobile telecommunications industry.
Eighteen knowledge-intensive companies are now located in NovaUCD and thirty-one of NovaUCD's incubation units are now occupied. This represents an occupancy rate of seventy five percent of the available incubation space.
ChangingWorlds was co-founded in 1999 by Professor Barry Smyth and Mr Paul Cotter to commercialise their research at UCD's Smart Media Institute in the fields of personalization and artificial intelligence. Today, ChangingWorlds is the leading global provider of personalization and mobile portal solutions and has deployed its flagship ClixSmart™ Intelligent Mobile Portal platform with over twenty mobile network operators worldwide, including Vodafone, O2 and Mobilkom groups. The company has also recently announced another major contract win with TeliaSonera, the leading telecommunications company in the Nordic and Baltic regions.
Commenting at the opening of its new research centre, Luke Conroy, ChangingWorlds' CEO said, "The synergy with such a world-renowned institution as UCD has proved to be a key differentiator for ChangingWorlds when competing in the global mobile telecommunications market." He added, "Establishing this research centre in the NovaUCD innovation and technology transfer centre further strengthens our links with UCD and will secure ChangingWorlds' future market leadership and competitive advantage."
The Minister for Trade and Commerce, Michael Ahern T.D., warmly welcomed the announcement and offered his best wishes for the venture. "The future of Irish business lies in product research and development," commented the Minister, "and this significant commitment by ChangingWorlds reflects that. Notwithstanding its already highly innovative product line, ChangingWorlds' investment is a recognition of the need to think beyond current products and markets and to develop the next wave of products that will help to secure future markets."
Dr Pat Frain, Director, NovaUCD, said, "We are delighted that ChangingWorlds has established a new R&D Centre in NovaUCD. The success of ChangingWorlds demonstrates the importance of campus companies in developing a knowledge-based economy in Ireland." He added, "We need to significantly increase our investment and support for technology transfer to enable the universities to generate increasing numbers of R&D intensive companies such as ChangingWorlds, which are critical if the indigenous sector in Ireland is to make a meaningful contribution to the achievement of the Lisbon Strategy of making the EU the most competitive and dynamic knowledge-driven economy by 2010."
For further information contact Micéal Whelan, NovaUCD, e-mail: miceal.whelan@ucd.ie, tel: (01) 716 3712.