Eyes firmly on the future.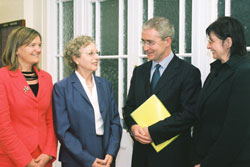 Prof. Bridgit Laffan, Prof. Carole Pateman,
Dr. Hugh Brady and Prof. Attracta Ingram.
The Department of Politics has its eyes firmly on the future, not least with the establishment of the School of Politics and International Relations. But recently it found time to look back over 150 years of political studies at UCD. A major celebration was held on June 15th to mark the anniversary of the establishment of Ireland's first and largest politics department, and one of the oldest in the world - 150 years to the day from when Aubrey de Vere was scheduled to deliver his inaugural lecture as the first Professor of Political and Social Science of the new Catholic University.
The events, which were held in UCD's former home in Earlsfort Terrace, began with a lecture by the distinguished political theorist Professor Carole Pateman of the University of California, Los Angeles. Professor Pateman presented a paper on 'The Settler Contract', which explored the legitimacy of the settler states of North America and Australia. Drawing on social contract theory, she highlighted the political difficulties that arise once the prior occupancy of native peoples and native title is recognised, and looked at the implications such recognition has when weighing up past injustices and present responsibilities.
The paper, which was responded to by Dr Martin Mansergh of Seanad Eireann, was very well received by the large audience. It was followed by the launch by Dr Maurice Manning, President of the Irish Human Rights Commission, of a booklet outlining the history of the Politics Department. This booklet charts the development of the Department from the appointment of Professor de Vere in 1855, describing its years as the Department of Ethics and Politics and the move to Belfield, bringing us up to the present day and the foundation of the School of Politics and International Relations.
Anyone who is interested in receiving a copy of 'Political Studies at UCD 1855-2005' can contact the School of Politics and International Relations – politics@ucd.ie.