Posted: 27 January 2006
UCD Researchers Seek New Dinosaur Fossils in Kazakhstan
A group of UCD palaeontologists recently announced the formation of a consortium to search for new dinosaur fossils in the Republic of Kazakhstan, a former region of the Soviet Union. The team at UCD believe that the ambitious nature of the project may reveal new species of dinosaurs previously unknown to science, with results providing important leads for future studies on sustainability of the Earth's biodiversity resources. The study of animal extinction and why it occurs will also benefit from the research.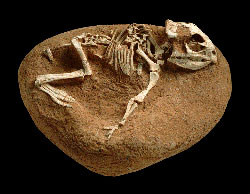 Dinosaur Fossil
The consortium consists of four teams, and is led by Dr. Gareth Dyke from the UCD School of Biological and Environmental Science. The research partner in Kazakhstan is the government funded Institute of Geological Sciences led by Dmitry Malakhov. These two research groups have been working together on the first phase of the project for four years. The Natural History Division of the National Museum of Ireland is the third member of the consortium, where plans are afoot to display the findings of the research to the public. Finally, Intune Technologies, a Dublin-based laser technology company is providing the technological support to complete the consortium.
"I am incredibly excited about this collaboration", stated Dr. Gareth Dyke. "I have been researching the evolution of dinosaurs for over 10 years and have spent the last four years building up evidence for new fossil discoveries with my colleagues at the Institute in Kazakhstan. This collaboration puts us in prime position to seek funding for the next phase of the project which will deliver a landmark event in the world of palaeontology. We have excellent partners, all experts in their own fields, and I am looking forward to some very positive findings."
For further information contact:
Dr. Gareth J. Dyke
School of Biological and Environmental Science
University College Dublin
Dublin 4, Ireland
Email: gareth.dyke@ucd.ie
Telephone: +353 1 716 2195