NovaUCD's 2007 Campus Company Development Programme to Commence in March
Posted: 10 January 2007
High-tech ventures are making a continuing contribution to the sustained development of a knowledge-based economy in Ireland. It is recognised that many of the most innovative new ventures originate in a university environment and that many of these university-based entrepreneurs require assistance in defining and developing their innovative ideas, building multi-disciplinary teams, and preparing and implementing detailed business plans.
NovaUCD's Campus Company Development Programme (CCDP), the flagship support programme run by NovaUCD for academic entrepreneurs who are spinning-out UCD campus companies addresses these and other facets of new venture formation. The 2007 Programme commences in March and NovaUCD is currently seeking applications for this Programme.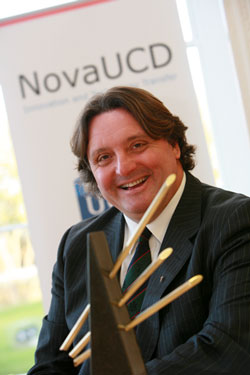 Dr Conor O'Brien, founder of FitFone, overall winner of the NovaUCD 2006 CCDP
The NovaUCD CCDP has run annually since 1996 and to date 125 projects and 175 individuals have completed the Programme. The aim of the CCDP is to assist academic and research entrepreneurs in the establishment and development of knowledge-intensive enterprises to commercialise the output of their research and other innovative ideas.
The Programme is a nine-month, part-time enterprise support initiative designed to suit the timetable of busy researchers and academics. It comprises a mix of practical training and consultancy support including 10 half-day workshops, one-to-one advice and consultancy meetings, and a series of networking events. On completion of the Programme participants will have developed an investor-ready business plan and presentation along with a strategy for its implementation.
The CCDP culminates in an awards evening, held each November during which each project which has completed the Programme is presented with a Certificate and an external judging panel declares an overall winner.
Previous CCDP winners include AV Edge, BiancaMed, ChangingWorlds, Lightwave Technologies and last year's winner FitFone. FitFone which was founded by Dr Conor O'Brien has designed, developed and patented platform technology which when embedded into a mobile phone facilitates remote health and fitness assessment to assist in increasing an individual's life expectancy.
Further information about the NovaUCD Campus Company Development Programme, including an application form can be accessed on the NovaUCD website via
www.ucd.ie/nova/services/ccdp07_seeking_applications.html
or by contacting Drew O'Sullivan, Project Manager, Enterprise Development, t: 716 3714, e:
drew.osullivan@ucd.ie
.