Posted: 25 July 2006
Minister announces €1.25m Sports Capital Fund award for Belfield Bowl
The Minister for Arts, Sport and Tourism, John O'Donoghue has announced a €1.25m award under the Sports Capital Programme 2006 for UCD Sport for the upgrading of the Belfield Bowl. The project, which is part of the University's Campus Development Plan, will see the activities of the UCD Soccer Club transferred from it's current home, Belfield Park,
to the Belfield Bowl, the home ground of the UCD Rugby Club.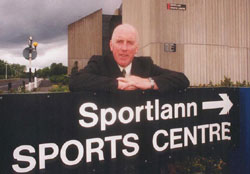 Brian Mullins, UCD Director of Sport
It is proposed that substantial work will be carried out on the Bowl to increase spectator accommodation by 840 seats, to provide additional permanent spectator facilities, to enhance floodlighting and to carry out required drainage and site work to accommodate both Soccer & Rugby games.
Following his announcement of the award on 12 July, Minister O'Donoghue said: 'I am glad to be able to announce grants for various strategic projects and development centres for soccer and rugby, two sports which when considering the opposition worldwide, have consistently punched above their weight in international competition. I am particularly pleased to point out that these two sports are to share a new facility at UCD.'
Brian Mullins, UCD Director of Sport, welcomed the grant. 'It will greatly assist the University in continuing to provide top class sporting facilities" he said.
It is hoped that planning permission will be granted in the near future, allowing both UCD Clubs to look forward to playing in the refurbished stadium in 2008.