Posted: 09 June 2006
UCD Ulysses Medal awarded to global philanthropist
Professor Klaus Schwab, founder and executive chairman of the World Economic Forum, has been awarded the UCD Ulysses Medal in recognition of his work for entrepreneurship in the global public interest over the past 35 years. The ceremony took place in the UCD Smurfit School of Business on 13 May and was followed by an address by Professor Schwab entitled The Global Economy 2006: Implications for Ireland.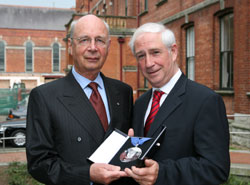 Pictured at the award ceremony: Professor Klaus Schwab
and Mr Kieran McGowan
Professor Schwab was Professor of Business Policy at the University of Geneva from 1972 to 2002. He holds doctorates in Economics and Engineering, and a Masters in Public Administration from Harvard. He has also received six honorary doctorates, and is the author of several books, including the Global Competitiveness Report, which he has been publishing annually since 1979.
He founded the World Economic Forum in 1971 as a non-profit foundation, and under his leadership it promotes global partnership as a means of tackling issues such as third world debt, international trade, the global TB epidemic and the Middle East peace process.
In his career Professor Schwab has served on a number of high-level United Nations advisory groups and has founded other non-profit organisations dedicated to social entrepreneurship and global partnership.