Posted: 26 June 2006
Photography and the City
International Conference
UCD Clinton Institute for American Studies
UCD, Belfield, Dublin 4
29 June – 1 July 2006
An international conference on 'Photography and the City' will take place at the UCD Clinton Institute for American Studies on 29 June – 1 July 2006 to accompany the first European exhibition of new work by Camilo José Vergara entitled 'American Ruins' at the Gallery of Photography, Dublin from 30th June – 30th July 2006. Internationally renowned photographers and academics – including Camilo José Vergara and Peter Hales – will be among the 90 guest speakers and delegates from across the globe.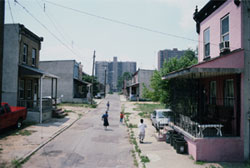 Camilo José Vergara photograph: Fern Street, Camden, N.J., 2004
For more than thirty years, Camilo José Vergara, a distinguished photographer and sociologist, has photographed post-industrial ruin sites in the United States. Through this he has produced a compelling visual chronicle of urban change. By repeatedly photographing the same locations in several major American cities over time he has documented large scale and subtle changes in buildings and neighbourhoods. His photographs reveal the hidden dimensions of 'decline' and 'regeneration.' They hold up a critical mirror to the urban history of American modernity.
Vergara's work has come to constitute one of the most important visual archives in the United States. It is celebrated for its ambitious documentation of the environs of inner city America.
'I wanted to create a visual archive similar to that sponsored by the Farm Security Administration during the Great Depression, but one representing the post-industrial American city instead. I have concentrated on those areas of the cities which have been left behind, and which are sometimes referred to as "reservations of the poor," or hyper-ghettos' says Vergara.
Vergara is a 2002 recipient of a MacArthur 'genius' grant. His work has been exhibited widely and his photographs are in the collections of the New York Public Library, the J.P. Getty Museum in Los Angeles, and other institutions. His books include The New American Ghetto (1995), American Ruins (1999), Unexpected Chicagoland (2001), Twin Towers Remembered (2001), and How the Other Half Worships (2005).

For further details consult www.ucd.ie/amerstud or contact Catherine Carey at Catherine.carey@ucd.ie or ( 01) 716 1560.