Posted: 02 March 2006
UCD Newman Scholars celebrate continuing success
Academics, scholars and leaders of industry and business attended a reception at Newman House, St Stephens Green on Wednesday 22nd February to celebrate the continuing success of UCD's Newman Scholarship Programme.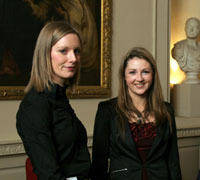 Speakers on the night were, Aoife O'Donovan, Craig Dobbin Newman
Scholar and Ciara Walsh, Dawn Farm Foods Newman Scholar.
The Newman Scholarship Programme was set up by UCD in 1989 as a major research initiative to provide research opportunities at post-doctoral level. It has established itself as a leading international platform for researchers in both the humanities and the sciences and has been extremely successful in attracting distinguished intellectual talent from Ireland and overseas.

Newman Scholars pictured here with Dr. Hugh Brady, President, UCD:
Aurora Trif, AIB & Aughinish Alumina - New Employment Relations; Aoife O'Donovan, Craig Dobbin - Mental Health; Brenda Murphy, Ann Westby - Food Safety; Annetta Zintl, Cuisine de France - Food Safety; Declan Healy Punchestown - Kidney Research; Aisling O'Riordan, Baxter Healthcare Ltd – Nephrology; Denise Drudy, Diageo - Food Safety; Joanna Griffin, Pfizer - Animal Health; Carmen Negredo, C & C - Food Safety; Rebecca O'Mahony, Dunnes Stores - Food Safety; Ciara Walsh,
Dawn Farm Foods - Food Safety.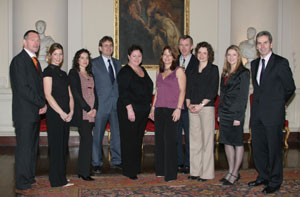 The Centre for Food Safety at present have 6 Newman Scholars pictured above with Séamus Fanning, Professor of Food Safety; Alan Reilly, Deputy CEO, FSAI; Pat Wall, Associate Professor of Public Health and John McGrath, Head of Marketing and Communications, Dawn Farm Foods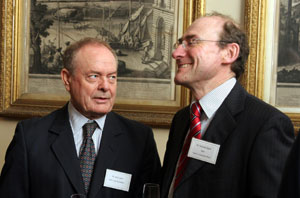 Also at the event were John Lane, Irish Lung Foundation and
Michael Egan, Head of Corporate Affairs, NRA.