Posted: 24 March 2006
Mr Eamon Drea appointed UCD Vice-President for Staff
The UCD Governing Authority appointed Mr Eamon Drea as Vice-President for Staff at its recent meeting on 21 March 2006. Mr Drea will succeed Prof Patrick Gibbons with effect from 1 May 2006. Prof Gibbons who is currently Vice-President for Staff and Administrative Systems will retain the Administrative Systems portfolio until 1 September 2006 when he will return to the UCD Business School.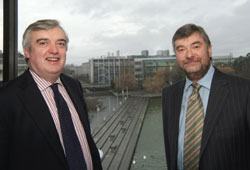 Professor Pat Gibbons and Mr. Eamon Drea
Mr Drea graduated from UCD with a BA in English and Philosophy (1975), Higher Diploma in Education (1977) and MA in Modern English and American Literature (1976). He studied Law at the Kings Inns and was called to the Bar in 1990.
Following a number of years teaching, Mr Drea joined the civil service in 1980. He worked in the Department of the Environment and in the Department of Finance as an Administrative Officer and Assistant Principal. While in the Department of the Environment, he worked on a range of environmental and electoral legislation, and served as Private Secretary to the Secretary of the Department. While in the Department of Finance, he worked in the area of management development and organisation development across a range of Government Departments and Offices.
Mr Drea joined Hay-MSL Management Consultants in 1990 as a Consultant and became Managing Director of their Irish business in 1995. He has experience of a broad range of human resources assignments within the public and private sector.