Researchers compete to explain their science to non-scientists
Posted: 07 March 2007
With science, we explore the nature of the universe. Through science, we have developed ways to combat disease, harness energy, and travel though space. And although the results of science may be clearly visible in the world around us, many of us - aside from scientists - don't actually understand scientific research and enquiry.

Fern spora and sporangia visualised using epi-fluorescent microscopy by Dr Alfonso Blanco, Flow Cytometry Core Facility, UCD Conway Institute
To encourage scientists to explain their research to the non-scientific community, UCD Conway Institute hosts AccesScience, a competition where third year postgraduate research students compete to give the clearest, most jargon free, explanation of their scientific research.
The six finalists of AccesScience 2007 competed in front of a panel of celebrity judges and hundreds of members of the general public on 27 February 2007. They explained ways to combat kidney disease, skin cancer and diabetes, and discussed advances in drugs to treat HIV and lung cancer.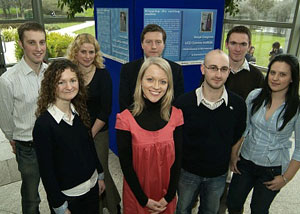 Host of AccesScience Junior and presenter of RTE's Scope science series, Kathriona Devereux pictured with the six competition finalists and Prof Pat Guiry, Director Of The Centre For Synthesis And Chemical Biology, Chair of the AccesScience committee. Back row L-R - William Faller, Katrin Bender, Prof Pat Guiry, John Grealis Front row L-R - Sonya Cosgrove, Kathriona Devereux, Ronan Feighery, Elaine McSherry
The winning presentation was given by Elaine McSherry who detailed how breast cancer cells spread without links to hold them together.
The celebrity panel was chaired by Olympic medalist, John Treacy. It included RTE weather presenter, Nuala Carey, singer/songwriter Juliet Turner and Nick Kelly, former lead singer with The Fat Lady Sings.
AccesScience also includes a science poster competition. This year, the best visual presentation of '21st century science' in the primary school category was presented to Dylan Kavanagh from 5th class in De La Salle, Ballyfermot. Isabel Kelly from Teresian School, Donnybrook, was the winner of the secondary school category. And Kate Hedigan, a postgraduate student in UCD Conway, scooped the top prize in the adult category. The winning posters will be displayed on DART trains and stations as part of the Science Track series; a joint initiative between Iarnród Éireann and UCD Conway Institute.
'AccesScience equips postgraduate research students with vital transferable skills and through AccesScience Junior it also helps to raise the profile of science and technology among primary and secondary school pupils and their teachers," said Dr Hugh Brady, President of UCD. "By having the science posters on display to 100,000 DART commuters per day, it will help to raise the public's interest in science."
AccesScience Junior

Over 450 secondary school students attended the third annual AccesScience Junior on 26th February 2007 in O'Reilly Hall, UCD. Hosted by RTE's Scope presenter Kathriona Devereux, the event gave aspiring young scientists an opportunity to hear about the research of six UCD Conway Institute postgraduate students.
The winning presentation entitled 'The Formation of a new Anticancer Drug' was given by John Grealis from the Centre for Synthesis and Chemical Biology and the UCD School of Chemistry and Chemical Biology.
Before the event, to give the secondary school students a flavour of life at UCD, they were taken on guided tours of the campus by UCD's student ambassadors.
AccesScience is sponsored by Discover Science & Engineering, Merck Sharpe & Dohme, Allied Irish Bank and the Biochemical Society.