UCD business students represent Ireland in Montreal and Ontario
Posted: 15 March 2007
Two teams of four students from the UCD Quinn School of Business are due to compete in two separate international case study competitions in Montreal and Ontario. The students - the only business students from Ireland and the UK to have been invited to compete in the events - will have just 24 hours to analyse a top level case study and present solutions to a judging panel of senior business executives. Competitors include business schools from the USA, Singapore, Hong Kong, New Zealand and Europe.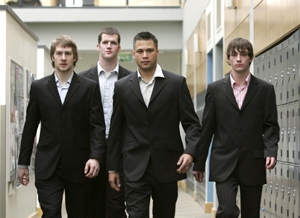 "We mean business" - UCD Quinn School Students fly the flag for Ireland. Four of Irelands top business students (L-R Enda Gallery, Edward Fidgeon-Kavanagh, Johann De Borst and James Daly) will represent Ireland in the prestigious International Case Competition
Stephen Brosnan, Andrew Flood, Niamh Prendeville and Jennifer Smith will travel to the "McGill Management International Case Competition" at McGill University in Montreal. At this annual undergraduate business case competition, the case studies will focus on globalisation and innovation, but may cross-cover any business topics.
Johann de Borst, James Daly, Enda Gallery and Edward Fidgeon-Kavanagh will compete in the "International Case Competition" at the Richard Ivey School of Business in Ontario, Canada. Their case study will explore the diverse perspectives of a global marketplace.
"We are proud to be the only business school from Ireland and the UK to be invited to compete at both events. It's indicative of how the school and our students are perceived across the globe," said Professor Aileen Pierce, Director of UCD Quinn School.
Johann de Borst, one of the students attending the competition, explained that he is preparing for what promises to be a challenging competition. "To compete against business students from all over the world will be exciting and tough."