Posted: 03 May 2006
Minister Martin launches report on Irish entrepreneurship
According to the Global Entrepreneurship Monitor (GEM) Irish Report 2005, recently launched by Micheál Martin, Minister for Enterprise Trade and Employment, Ireland remains one of the leading EU and OECD countries in terms of early stage entrepreneurial activity.
The GEM Irish Report 2005, written by Dr Colm O'Gorman, UCD School of Business and Paula Fitzsimons, Independent Consultant, shows that the number of Irish entrepreneurs starting and planning new businesses grew from 7.7% in 2004 to 9.8% in 2005.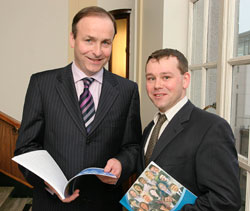 Dr Colm O'Gorman, UCD School of Business, briefs Mr Micheál Martin, Minister for Enterprise, Trade and Employment at the launch of the Irish Global Entrepreneurship Monitor (GEM) Report for 2005.
Welcoming the report, Minister Martin identified Ireland's pro-business environment and strong culture of support for entrepreneurship as key factors in fostering entrepreneurial activity. In the forward to the report, Minister Martin states: 'I very much welcome the further insights which the GEM Irish Report 2005 provides and commend the authors not only for the quality of their research, but also for introducing into this year's report the faces and pen pictures of some of Ireland's recent entrepreneurs. I hope that their stories will help to inspire others. We need a continuing strong flow of new enterprises from which the Irish multinationals of tomorrow may spring.'
Four of the sixteen Irish entrepreneurs profiled in the GEM Irish Report 2005 are based in NovaUCD, the Innovation and Technology Transfer Centre at UCD. These include Jan Berg, Maritime Management; Rosey Broderick, Homewise.ie; Dr Brian Kelly, Celtic Catalysts; and Michael O'Shea, Intelligent Health Systems.
'Our research shows that there are very positive attitudes towards entrepreneurship in Ireland…A very high number of people in Ireland believe that entrepreneurship is a good career choice and that successful entrepreneurs are held in high regard,' says Dr O'Gorman, co-author of the 2005 report.
The GEM Irish Report is sponsored by Enterprise Ireland, Forfás and InterTradeIreland.
GEM is a cross-country research project co-ordinated jointly by the London Business School and Babson College in the USA. The objectives of the research programme are to measure the differences in the level of entrepreneurial activity between countries; to probe for a systematic relationship between entrepreneurship and economic growth; to uncover the facts that lead to higher levels of entrepreneurship; and to suggest policies that may enhance the national level of entrepreneurial activity. The results of the GEM research are used by the National Competitiveness Council to assess Ireland's competitiveness.
For further information or to download the report visit www.gemconsortium.org