UCD architecture lecturers, O'Donnell and Tuomey on shortlist for 2005 RIBA Stirling Prize.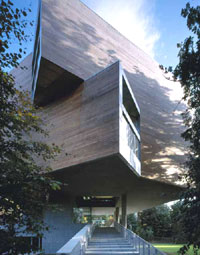 The Lewis Glucksman Gallery in UCC, designed by two architecture lecturers from the UCD School of Architecture, Landscape and Civil Engineering, Sheila O'Donnell and John Tuomey, is on the shortlist for the 2005 RIBA Stirling Prize.
Named after the great British architect James Stirling, the prestigious annual award is presented to 'the architects of the building which has been the most significant for the evolution of British and Irish architecture in the past year.'
This year's shortlist also includes the BMW building in Leipzig designed by Zaha Hadid, Enric Miralles' Scottish Parliament and the McLaren Technology Centre by Norman Foster, who has won the prize twice in previous years.
O'Donnell and Tuomey, who have been teaching in UCD for over twenty years, have received numerous national and international awards in the past. They designed the UCD Centre for Research in Infectious Diseases (CRID) building on the UCD campus where world-leading research on diseases such as AIDS is carried out. To date, the building has received three international awards including a RIBA (Royal Institute of British Architects) 2003 Award.
O'Donnell and Tuomey were nominated to the Stirling Prize shortlist following their success in the RIBA Regional Awards earlier this year. The awards will be broadcast live on Channel 4 from Edinburgh on Saturday 15 October.
>> More News and Events
<< Back to Home