UCD to host 4th International PERVASIVE Computing Conference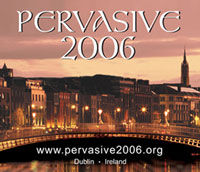 PERVASIVE, one of the premier conferences in Pervasive Computing, will hold its 4th International Conference in Dublin from May 7 – 10, 2006. Professor Paddy Nixon, Head of the newly formed Systems Research Group in the UCD School of Computer Science and Informatics has been invited to be General Chair of the conference; the Conference Chair is Dr Aaron Quigley of UCD's Systems Research Group. UCD will host this year's conference and with over 350 people in attendance last year, it is widely recognised as the premier event in its domain.
PERVASIVE is an annual international conference which presents significant research contributions in the area of pervasive computing technologies, systems and applications. It provides a forum for researchers, developers, and users throughout the world to present advances in computing technology towards new modes of operation and new usage models.
In addition to a highly selective single-track programme for technical papers (over 230 have been submitted, of which approximately 15 per cent will be accepted), PERVASIVE 2006 will include two keynote addresses, late breaking results, research videos, poster presentations, conference workshops, research demonstrations, an outreach public lecture and a doctoral colloquium.
Keynote speakers include Joe Marks, Director of Research Mitsubishi Electric Research Laboratories (MERL) and David L. Tennenhouse, Director of Research for Intel Corporation. The key conference sponsors include Intel Ireland, Microsoft Research, Mitsubishi and IBM Ireland.
Pervasive 2006 Conference Workshops

PERVASIVE 2006 workshops are a complementary forum to the main conference, encouraging the presentation and discussion of work in progress and facilitating a dialogue on emerging topics in small groups. The day-long workshops will be held prior to the main conference on Sunday May 7, 2006
Two major international workshops will also be run in co-operation with the main conference – one hosted by IBM, Dublin and one in Cork.
Important Dates
December 1, 2005 - Submission of Workshop Proposals
December 16, 2005 - Notification of Acceptance/Rejection of Paper Submissions
February 1, 2006 - Late-breaking Results, Videos and Demonstrations
February 10, 2006 - Camera-Ready Paper Deadline
May 4 & 5, 2006 - MUCS International Workshop (in co-operation), Cork
May 7, 2006 - Conference Workshops
May 8 - 9, 2006 - Main Conference
May 10, 2006 - Doctoral Colloquium
May 10 & 11, 2006 - LoCA International Workshop (in co-operation), IBM, Dublin
Further Information can be obtained from the Conference Organising Secretariat:
Tel: +353 1 2802641
Fax: +353 1 2802665
Website: http://www.pervasive2006.org/
>> More News and Events
<< Back to Home