US Envoy for Northern Ireland addresses the
UCD Clinton Institute for American Studies.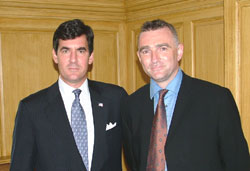 Ambassador Mitchell Reiss, US Envoy for Northern Ireland and Professor Liam Kennedy, UCD Clinton Institute for American Studies.
Few would underestimate the influence of Ambassador Mitchell Reiss, Special Envoy for Northern Ireland under the Bush administration, on the steady progress achieved in Northern Ireland in the recent past. A lawyer by profession, Ambassador Reiss is former Dean of International Affairs at the College of William and Mary. Consequently, his clear and
deep thinking, combined with his articulate delivery and diplomacy skills, have made him a powerful influence on both sides of the Atlantic.
Although in regular contact with political and other influential
figures here, in Northern Ireland and in Britain, Ambassador Reiss rarely gives press conferences or attends open meetings.
On Monday, 12 September, Ambassador Reiss addressed an audience of students and academics at the UCD Clinton Institute for American Studies.
After a weekend of some of the worst rioting in Belfast for many years - prompted by Orange Order objections to the rerouting of its Whiterock parade away from a nationalist area near Springfield Road, Ambassador Reiss was in no doubt that the Unionist leadership had not fulfilled its constitution political role to dissuade and condemn loyalist violence - much of it leveled against the PSNI.
Ambassador Reiss gave comprehensive and frank responses to questions from the audience and stressed the deep commitment of US President George W Bush to working towards a solution in Northern Ireland.

He called on the Unionist leadership to reassert itself to help calm the situation on the streets in Belfast.
On the subject of IRA decommissioning, he said the quality of arms disposal was more important than the timing.