UCD plans graduate medical school for 2006.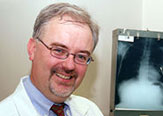 Professor Bill Powderly
UCD intends to introduce graduate entry to medicine in September 2006, the Head of the School of Medicine at UCD, Professor Bill Powderly, announced today.
"We have made this decision for strategic and educational reasons. We need to educate and train more doctors, and we need to encourage diversity by creating more entry pathways to our medical schools. We have notified the Medical Council of our intention, and will now enter discussions with the Higher Education Authority. All going well, we will take in our first cohort of graduate students next September."
The UCD School of Medicine will accept applications from students who have achieved at least a upper second class honours grade in an honours bachelor degree (NQAI level 8) 2.1 or higher honours. Applicants will not have to have a science-based primary degree, so that students with primary degrees in humanities, social sciences and other areas may enter medicine through this new route. The selection process will, as in other countries, include an internationally-recognised entrance examination, which will have a considerable scientific content as well as an aptitude component.
The proposed curriculum for graduate students has been influenced by UCD's recent move to a modular format. The curriculum (for both school-leaver and graduate students) now incorporates a greater degree of skills development and a better balance between theoretical and clinical experience.
"The introduction of a modular curriculum at UCD certainly facilitates students from a non-science background who may wish to go on to study medicine after their primary degree. Under UCD Horizons, undergraduates who are majoring in non-science degrees can take life science modules, which will be useful later if they opt for graduate entry to medicine."
The UCD graduate programme will take four years to complete and students will receive the same Bachelor of Medicine, Bachelor of Surgery, Bachelor of Obstetrics (MB, BCh, BAO) degree as the students entering through the traditional leaving certificate undergraduate route.
How any proposed new places in medicine will be funded, the fee to be charged for the course, and whether or not these students will displace non-EU students, who currently cross-subsidise and support the education of Irish medical students, will be depend upon the outcome of discussions with the Higher Education Authority.
UCD currently takes 108 students from the EU (mostly from Ireland) into first year medicine each year. By 2010 the university's intention is to have 50:50 balance of school-leaver and graduate entrants on the medicine degree programme.
Dr. Philip Nolan, Registrar and Vice-President for Academic Affairs at UCD says: "This is a clear example of how UCD is increasing the flexibility and responsiveness of our degree programmes. While some students are able to make clear and informed decisions to pursue a career in medicine while still teenagers, others are excluded from the profession because the one and only chance to enter occurs at school-leaving age. The introduction of graduate entry creates a second opportunity for individuals to consider a career in medicine, and should attract a different type of candidate. When combined with our new modular curriculum we will offer a rounded and holistic education to a diverse group of students, producing graduates with the variety of knowledge, skills and abilities required in a modern health service"
>> More News and Events
<< Back to Home