Posted: 02 August 2007
UCD first to adopt student laptop programme
Laptop computers are an increasingly common sight across Irish third level campuses. Today's students use laptops to access their course materials, search library catalogues, give presentations and, of course, access the internet. In support of this growth in laptop ownership among students, Irish universities are rapidly moving towards digital campuses where free wireless internet access is available anytime, anywhere.
A new agreement between Intel, Dell, HP, Microsoft, AIB and Vodafone, now aims to further support the increased use of laptops by third level students. The Student Laptop Programme offers students more affordable and better ways of getting their hands on their own laptop. The laptops purchased through the initiative will be preloaded with a host of software (including MS Office Professional Suite), a broadband option and ready for use on existing third level campus networks. The laptops will also be covered by HP/Dell's three year next business day on site repair warranty.
Under the initiative, five different Dell and HP laptop models are available to students ranging from just under €1,000 to almost €1,400. And AIB has introduced an introductory low rate loan rate loan for students who wish to avail of the offer.
Minister for Education and Science, Mary Hanafin TD, welcomed the new Higher Education Student Laptop Programme, which will see thousands of third level students getting access to purchase laptops with appropriate software and warranty which will help them during their studies, research and life.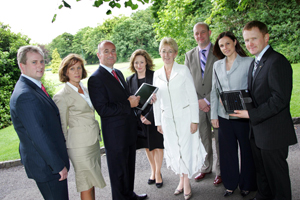 Pictured at the launch of the Student Laptop Programme (from left - right): Colin Mac Hale, Country Manager, Intel Ireland; Adrienne Murray, Campus Branch Manager, AIB (UCD campus); Noel Kelly, SMB Sales & Marketing Manager, HP; Rosemary Steen, Head of Corporate Affairs, Vodafone; Minister for Education & Science, Mary Hanafin T.D; Dr Philip Nolan; Registrar and Vice President for Academic Affairs, UCD; Regina Murray, Microsoft Ireland; and PJ Dwyer, Director and General Manager, Dell Ireland
"To survive and thrive in this growing knowledge-based economy, tomorrow's citizens, employees and customers must be equipped with 21st Century skills. Intel is committed to improving education today so that students will be able to thrive tomorrow and into the future," said Colin MacHale, Ireland Country Manager, Intel.
UCD is the first Irish third level institution to adopt the Student Laptop Programme. "Having worked closely with industry, we are now ready to offer our students better and more affordable ways to purchase a laptop computer," said Seamus Shaw, IT Chief Service Officer, UCD IT Services.
"At present around 20% of all students at Belfield own their own laptop. And with this new initiative we might expect that up to 75% of all students will own their own laptop over the course of the next three years."
"With the core of the Belfield campus, including on campus accommodation, now supporting 100% wireless internet access, UCD students can use laptops to access information and the internet from almost anywhere," he concluded.