Posted: 01 September 2007
Tom Munnelly - renowned folk song collector dies
Following a long illness, Tom Munnelly (1944-2007), who has been associated with UCD for more than thirty years, passed away on 30 August 2007.
Tom was first employed at UCD as a collector by Breandán Breathnach who headed up the Irish Folk Music Section of the former Department of Irish Folklore. He then worked as an Archivist/Collector in the UCD Delargy Centre for Irish Folklore and the National Folklore Collection. In 1978, with the support of Professor Bo Almqvist, the former Head of the Department, he relocated to county Clare where he served in the post until his recent sad demise.
An iconic figure in folk music and folk song circles in Ireland and in the English-speaking world generally, Tom was an acknowledged expert on the Irish tradition of folk song in the English language. But while many of his writings deal with this topic, the scope of his work was wider. Like other collectors, his enquiries followed the full range of guidelines laid down in Seán Ó Súilleabháin's A Handbook of Irish Folklore. His 177-page piece detailing the lore of the Clare musician, Junior Crehan (Béaloideas, Vols. 66 and 67), illustrates his versatility in this respect.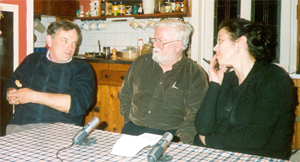 Tom Munnelly (centre), with Dónal de Barra (left) and UCD colleague, Bairbre Ní Fhloinn (right)

He gathered material of the highest quality in a variety of media from across the country, all of which forms a significant part of the National Folklore Collection. Like many archivists and field staff members of the former Irish Folklore Commission and Department of Irish Folklore, he had a distinguished publication record in which his special knowledge of the workings of the living tradition was supplemented and enriched by the insight that close acquaintance with the existing body of archived material provided.
His writings brought great credit to the subject and earned the respect of scholars worldwide. Similarly, he showed enormous energy and skill in promoting interest in and the understanding of the nature of folklore through popular publications, broadcasting and lectures to local societies and groups. As a lecturer and critic, he was always in great demand. In 1994 his book: The Mount Callan Garland - Songs from the Repertoire of Tom Lenihan, Knockbrack, Miltown Malbay, County Clare appeared (Comhairle Bhéaloideas Éireann/The Folklore of Ireland Council).
During his work, Tom amassed a truly enormous collection of song in the English language. This body of material contains sound recordings of the highest quality diligently transcribed, annotated and indexed. To successfully index this and similar material in the National Folklore Collection (NFC), Tom showed great initiative in mastering the nuances of all relevant existing indices and in developing a new model specially suited to the Irish material. Working from home with the aid of microfilm copies of NFC manuscripts, he succeeded in creating a tool of the greatest importance for the study of folk song in Ireland and elsewhere and, in doing so, made a most significant input to the process of providing a complete index to folklore archive holdings.
He made an intermittent but very important contribution to the teaching programme of Irish Folklore by sharing his expertise in archiving and indexing processes and in demonstrating interview techniques and recording skills as well as introducing students to active collecting situations in the field and participating in associated follow-up activities such as transcription and indexing of the materials collected. He constantly offered advice and information to all comers and promoted the good name of the institution through his contacts with other bodies and organisations, by lecturing to local societies and liaising with musicians, singers and broadcasters at home and abroad.
In recognition of his lifetime's achievement, the degree of Doctor of Literature (honoris causa) was conferred upon him by the National University of Ireland, Galway on 19 June 2007. A month or so earlier, a Festschrift, entitled Dear Far-Voiced Veteran. Essays in honour of Tom Munnelly was presented to him at a ceremony held in his adopted county of Clare.
There is little haphazard about the way in which collections such as those amassed by dedicated collectors like Tom come into existence, neither from his side nor from the point of view of the institution – University College Dublin – that, over a long number of years, has sustained a commitment to collecting new material and in whose folklore archive, photographs, sound recordings and manuscript transcripts bearing the "TM" signum are proudly displayed and rendered accessible to the public.
As a long-standing employee of University College Dublin, Tom Munnelly did the institution and the nation a unique service. His contribution to the Irish folklore record was quite outstanding, easily ranking him alongside the most distinguished labourers in this field in Ireland.
May he rest in peace.
Professor Séamas Ó Catháin
Director,
National Folklore Collection
UCD School of Irish, Celtic Studies, Irish Folklore & Linguistics
Ar an 30 Lúnasa 2007 a d'imigh Tom Munnelly (1944-2007) uainn ar shlí na fírinne. Cruthaíodh an ceangal idir é féin agus An Coláiste Ollscoile Baile Átha Cliath níos mó ná 30 bliain ó shin nuair a fostaíodh ina bhailitheoir amhrán ar an chéad dul síos é agus ina Chartlannaí/Bailitheoir ina dhiaidh sin, post a bhí aige faoi Lárionad an Duileargaigh do Bhéaloideas na hÉireann agus Cnuasach Bhéaloideas Éireann go dtí go bhfuair sé bás de bharr tinnis a bhí á chrá le píosa maith roimhe sin. D'aistrigh sé siar go contae an Chláir sa bhliain 1978 agus ba ansin a chruinnigh sé lear mór den bhailiúchán mhór a thiomsaigh sé agus é i mbun a chuid dualgas don Ollscoil.
Is amhlaidh gur breathnaíodh air mar phearsa speisialta agus mar shaineolaí aitheanta ar thraidisiún na hamhránaíochta i mBéarla na hÉireann go háirithe dóibh siúd a bhfuil dáimh acu le hamhráin Bhéarla an phobail agus leis an cheol pobail in Éirinn, agus fríd domhan an Bhéarla go ginearálta. Bíodh a fhios go mbaineann cuid mhaith dár scríobh sé leis an réimse sin, is cuid suntais é gur leithne ná sin na hábhair ar chuir sé spéis iontu. Chruinnigh sé ábhar béaloidis den scoth san iomad meán agus den uile chineál ar fud na tíre agus tá sé sin uilig anois ina chuid thábhachtach de Chnuasach Bhéaloideas Éireann. Mar a tharla i gcás chuid mhaith eile de lucht foirne Choimisiún Béaloideasa Éireann agus de Roinn Bhéaloideas Éireann roimhe, tharraing a chuid foilseacháin clú agus cáil air i ngeall ar a shaineolas ar an traidisiún beo, saineolas a doimhníodh agus a saibhríodh de bharr an chur amach a bhí aige ar na bailiúcháin a tiomsaíodh roimhe sin.
Bhí meas air agus ba mhór an chlú a thuill sé i gcéin agus i gcóngar don ábhar léinn a roghnaigh sé. Ar an gcuma chéanna chothaigh sé go hoilte agus go fuinniúil ina chuid foilseachán agus sna léachtaí agus sna cláracha raidió agus teilifíse a mbíodh sé páirteach iontu spéis an phobail i gcoitinne sa bhéaloideas.
D'fhág sé go leor de mhic léinn an bhéaloidis faoi chomaoin chabhartha nuair a bhíodh sé ag plé leo idir amanna agus ag míniú dóibh an chaoi le bheith ag déileáil le faisnéiseoirí sa ghort agus ag léiríu ina dhiaidh sin na modhanna cuí chun tras-scríobh agus innéacsú a dhéanamh ar an ábhar béaloidis a bhailíodh sé uathu. Bhíodh sé go síoraí ag cur comhairle agus ag soláthar eolais do dhaoine agus ag cur ainm na hinstitiúide chun cinn sa phlé a bhí aige le heagraíochtaí eile, sa tseirbhís a thug sé do chumainn áitiúla ina chuid cainteanna agus sa chaidreamh a bhí aige le ceoltóirí, le hámhránaithe agus le craoltóirí sa bhaile agus in imigéin.
Mar aitheantas dá shaothar saoil, bhronn Ollscoil na hÉireann Gaillimh céim oinigh DLitt air ar an 19 Meitheamh 2007 agus, mí nó mar sin níos luaithe ná sin, foilsíodh an fhéilscríbhinn, Dear Far-Voiced Veteran. Essays in honour of Tom Munnelly agus bronnadh air í i Rinn na Spáinneach i gcontae a dhídine,
Fostaí seanbhunaithe den ollscoil ab ea Tom Munnelly a thug seirbhis shainiúil di sin agus don náisiún araon. Is féidir é a áireamh de bharr na hoibre a rinne sé ar bhailitheoirí móra an bhéaloidis in Éirinn.
Suaimhneas síoraí dá anam.