Posted: 05 September 2007
Edward Delaney's 'Celtic Twilight' sculpture moves to Belfield
'Celtic Twilight,' a six-metre high steel rod and tubular stainless steel sculpture created by renowned Irish artist Edward Delaney in 1974, has been donated to University College Dublin by developer David Arnold in memory of his father.
The sculpture unveiled on 05 Sept 2007, which was originally located in the American Airlines Building on Baggot St, Dublin, will be on permanent display in the courtyard of the UCD Conway Institute.
"We are honoured that University College Dublin has become the home of this impressive piece of sculpture by Edward Delaney, one of Ireland's most accomplished artists," said Eamonn Ceannt, UCD Vice-President for Capital and Commercial Development.
"And we are extremely grateful to David Arnold for donating the piece which gives this courtyard at the UCD Conway Institute a dramatic new focus for all those who come to enjoy its open space."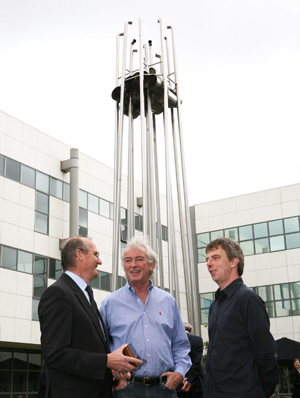 Pictured at the unveiling of Edward Delaney's 'Celtic Twilight'
(from l-r): Eamonn Ceannt, UCD Vice-President for Capital and Commercial Development, David Arnold, Developer and
Edward Delaney's son, Eamonn Delaney.
To accompany the sculpture, a series of 12 prints by Edward Delaney entitled 'The Samson Riddle' are currently on display in the foyer of the UCD Conway Institute. The prints were created to complement a text by author and screenwriter Wolf Mankowitz who wrote the original Casino Royale screenplay.
'The Samson Riddle' print series are the only existing prints by Delaney. They tell a series of tales based on Old Testament stories and were published in 1970 by the Davis Gallery, Dublin. The prints are on loan to UCD from the artist's family.
Edward Delaney was born in Mayo in 1930. He studied at the National College of Art and Design in Dublin and, with the support of the Arts Council, studied casting in Germany. In 1959 and 1961, he represented Ireland at the Paris Biennale. His best known works are two famous Dublin landmark monuments: the 1967 statue of Wolfe Tone and famine memorial at the northeastern corner of St Stephen's Green, Dublin, and the statue of Thomas Davis in College Green, Dublin. In 1979, his statue of Wolfe Tone was blown up by loyalist terrorists, but the head survived undamaged and the statue was fully reconstructed.

Edward Delaney's 'Celtic Twilight'
Works by Delaney are displayed in many major collections worldwide including the Ulster Museum, Belfast; the First National Bank of Chicago; the First National City Bank of New York; KLM Airlines Headquarters, New York; and Norman B Arnoff, New York.
His many awards and scholarships include a West German fellowship for sculpture (1956-7); Bavarian State Foreign Students Sculpture Prize (1958); Italian Government Scholarship for sculpture (1959-60); and Arts Council of Ireland Sculpture prizes (1962 and 1964); and the RHA Award for Sculpture of Distinction in Bronze (1991).