Posted: 12 September 2007
Irish students bike to Beijing for charity
Three Irish students have set-off on a 334 day cycle from Ireland to China to raise funds for charity. The 18,000km trek will see them travelling through some of the world's most difficult terrains and extreme climates as they pass through more than 18 countries including: France, Germany, Austria, Hungary, Slovakia, Croatia, Serbia, Romania, Bulgaria, Greece, Turkey, Georgia, Azerbaijan, Iran, Turkmenistan, Uzbekistan, Kyrgyzstan and Tajikistan.
The trio have been planning their gruelling journey for the past year in the hope of raising €100,000 for the UCD Volunteers Overseas and the Aftercare Research Counselling (ARC) Cancer Support Centre. UCD Volunteers Overseas, which offers Irish students the chance to take part in voluntary work abroad, funds life-saving projects in the developing world. ARC Cancer Support Centre provides support to those affected by cancer and their carers.
Earlier in the year, the UCD Confucius Institute for Ireland sponsored the trio by providing them with free Chinese language courses.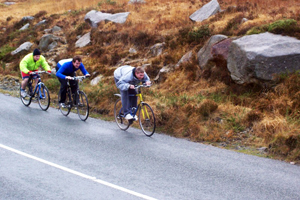 Pictured in training (l-r): Mark Donlon, Conor Rowan and Paul Ryan
"We reckon that we'll have to cycle roughly 80km a day, five days a week, at the least," said one of the three cyclists, Paul Ryan a graduate of History and Politics from UCD. "And we're also prepared for the fact that we'll encounter extreme weather, visa delays and other problems along the way."
"The plan is to arrive in Beijing, China on August 08 next year, in time for the 2008 Olympics. Where we hope to see our friend David Gillick, the double European Indoor 400m champion, compete in the track and field events."
"We've been working and saving money for the past year so that we could pay our own way and to make sure that 100% of the funds go to charity," he said.
The other two cyclists from the trio are: Mark Donlon, a graduate of Construction Economics and Management from DIT, and Conor Rowan, a third-year Veterinary Medicine student at UCD.
For more information and to follow the progress of the cycle which began on Sept 07 from Dublin visit www.biketobeijing2008.com