Posted: 30 October 2007
Bank of Ireland / UCD New Irish Scholarship Awards
With the recent census identifying 400,000 foreign nationals currently living in Ireland, which represents almost 10% of our population, a key priority area for Irish universities over the next few years is to further develop systems and supports for members of minority ethnic groups from outside of the EU, now resident in Ireland.
Bank of Ireland, in association with UCD, has introduced a New Irish Scholarship Scheme targeted at members of ethnic groups from outside the EU, now resident in Ireland.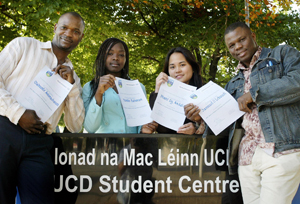 Mr Olakunle Animashaun from Nigeria; Ms Yombo Rahman from Nigeria; Ms Shane Liz Andaloc from the Philippines, and Mr Samuel Ogwu Lekwadi from South African; who each received a Bank of Ireland / UCD New Irish Scholarship Award at a ceremony held in University College Dublin on 23 October 2007.
"The scholarships - valued at up to €5,000 per annum for the duration of the student's degree programme – are aimed at individuals who face significant economic obstacles to entering university," said Ronan Murphy from the Office of the Director of Access at University College Dublin.
"Bank of Ireland has a long tradition of supporting student initiatives at University College Dublin," said Sinéad Mulryan, Commercial Branch Manager, University Branch Montrose, Bank of Ireland. "And we are particularly proud of our commitment to this unique new scholarship."
Applicants for the scholarship scheme must have been resident in the Republic of Ireland for a minimum of three years and must be legally entitled to remain based on Irish naturalisation, refugee status, humanitarian leave, leave to remain or be holders of an Irish work permit for past three years.
Candidates for the scheme are individuals aspiring to study at undergraduate or postgraduate level in UCD (full- or part-time) but whose financial circumstance are such that it would be extremely difficult for them to take up their place in UCD.