Posted: 14 November 2007
GAA commentator, Mícheál Ó Muircheartaigh honoured by UCD
In recognition of his outstanding contribution to Irish sport and the Irish language, distinguished UCD alumnus Micheál Ó Muircheartaigh was awarded the UCD Foundation Day Medal on Friday 09 November 2007.
One of Ireland's best known sports commentators, Mícheál Ó Muircheartaigh made his first RTE broadcast on a Railway Cup match in 1949 following his selection from a test panel of student commentators on a hurling match at Croke Park earlier that year. With his uniquely entertaining and often bilingual commentaries, he has since become the public voice of the GAA.
Born in Dún Síon, near Dingle, he graduated from St Patrick's College, and completed his Bachelor of Arts, Higher Diploma, DAP and Bachelor of Commerce at University College Dublin. He worked as a teacher in primary and secondary schools throughout Dublin before becoming a full-time broadcaster for RTE.
At the beginning of his broadcasting career Ó Muircheartaigh commentated on Minor GAA matches in Irish. In the mid-1980s, he took over from Micheál O'Hehir as RTE's premier radio sports commentator. His love for the Gaelic Athletic Association (GAA) is palpable from his enthusiastic commentary on each and every game. He is the main commentator in the Gaelic Games Football game on the Sony Playstation video game console.
"Mícheál is a participant in the game. In describing what is happening, he is representing the athlete in their drive to succeed," said Brian Mullins, Director of UCD Sport. "The achievement that each and every athlete and player strives to execute is captured in his words as he describes, for all those listening, the very essence of what the particular scene and the sequence of scenes in sport are all about."
"There are those in our world who bring music, literature and art to life," continued Mullins. "Through his commentary, Mícheál brings sport life because he believes it is life and he wants to share that understanding and vision with each and every one of us."
Previous recipients of the UCD Foundation Day Medal include: former President of Ireland, Dr Paddy Hillery; Irish author, Maeve Binchy; and former EU Commissioner and Attorney General to the Irish Government, Sir Peter Sutherland.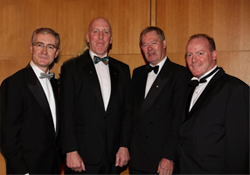 Pictured at the UCD Foundation Day Dinner on Friday 09 November (l-r): Dr Hugh Brady, President of UCD; Brian Mullins, Director of UCD Sport; GAA sports commentator, Mícheál Ó Muircheartaigh; and Conor Lenihan TD, Minister for Integration
The Minister for Integration, Conor Lenihan TD presented the keynote address at the UCD Foundation Day Dinner. As he outlined the progress made by the Irish government in terms of aid to the developing world, he spoke of his pleasure working with University College Dublin on several overseas projects while he was Minister for Overseas Development. The Minister also expressed his continued interest in further developing this longstanding relationship through his current ministerial appointment as Minister for Integration.