Posted: 26 November 2007
Leading Irish businessman, Dermot Desmond honoured by UCD
Dermot Desmond was conferred with an Honorary Doctorate of Laws by University College Dublin on Friday 23 November 2007, in recognition of his outstanding contribution to business innovation and enterprise in Ireland. At the conferring ceremony, he was also presented with the UCD Ulysses Medal, the highest honour that the university can bestow, which is awarded to those who have created an entity or body of knowledge which adds significantly to the public good. The latter award acknowledges his pivotal role as the visionary behind the IFSC.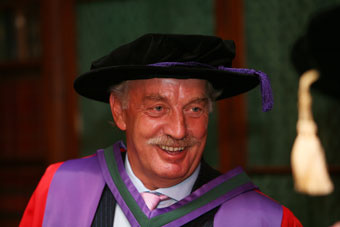 Dermot Desmond was conferred with an Honorary Doctorate of Laws by University College Dublin on Friday 23 November 2007
"UCD is proud to honour Dermot Desmond, the businessman, the patriot, the sportsman, the man of vision and bravery, the man who shaped and surfed the tide of modern Irish history as few others have before or since," said Dr Hugh Brady, President of University College Dublin.
"In 1987, at a time when The Economist magazine described Ireland as 'The Basket Case of Europe', at a time when Ireland had 18% unemployment and 15% inflation, Dermot Desmond conceived the idea that Ireland, and specifically, the Custom House Docks in Dublin, would become the home to an International Financial Services Centre," continued Dr Brady. "At the time, this idea seemed as farfetched as the idea of a telephone which you could fit in your shirt pocket and use to make calls from anywhere in the world."
Kieran McGowan, Chairman of the UCD Governing Authority, who gave the UCD Ulysses Medal citation, spoke of his privilege to serve as Chief Executive of the IDA in the years when the fruits of Dermot's idea of the International Financial Services Centre at Custom House Docks and all its positive collateral began to be reaped. "What ensued is the success story with which we are all familiar," he said.
"Let us remember the idea whose time came and which helped, perhaps more than anything else, to move Ireland to a new prosperity. And let us acknowledge a most deserving recipient of the UCD Ulysses Medal, the progenitor of that idea and its consequent prosperity, Dermot Desmond."
Previous recipients of the UCD Ulysses Medal include: Founder and executive chairman of the World Economic Forum, Professor Klaus Schwab; Nobel economist, Professor James J Heckman; Nobel laureate, Dr Philip Sharpe; US Philosopher, Professor Hilary Putnam and US Nobel Laureate in Chemistry, Professor Robert H. Grubbs.
Dermot Desmond
Dermot Desmond was born in Cork in 1950. His family moved to Dublin in 1956. He was educated at Scoil Mhuire in Marino and at Good Counsel College in New Ross.
Before setting up his own company in 1981, he worked for Citibank, the Investment Bank of Ireland and as a banking consultant for Price Waterhouse Coopers in Afghanistan. In 1981, he founded NCB and grew the business to become Ireland's largest independent stockbroker. In 1994 he sold NCB to the National Westminster Bank (now The Royal Bank of Scotland). He is Chairman of International Investment & Underwriting (IIU), which he founded in 1995. IIU is a private company, operating from the International Financial Services Centre in Dublin, specialising in direct equity investment and underwriting, funds management and capital markets trading.
He was the original promoter of the IFSC, which now has 400 companies operating in Dublin's docklands. Prior to founding IIU in 1995, he established a number of software companies serving the financial services sector. Through his private equity company IIU, he holds substantial investments in the technology, leisure, transport and banking sectors.
He is Chairman of a charity called 'Respect', which was set-up by the Daughters of Charity to raise funds to develop their services for people with a mental and physical handicap. He is a Board member of several companies, charities and educational bodies. He is also a trustee of the Chester Beatty Library.