Posted: 04 December 2007
UCD confers honorary Doctor of Literature on actor Stephen Rea
UCD Bachelor of Arts students were joined by actor Stephen Rea as they received their degrees on Monday 3 December 2007.
Stephen Rea was conferred with an honorary Doctor of Literature by University College Dublin for 'contributions to the performing arts'.
Delivering the citation, Professor William Hall spoke of Rea's remarkable achievement in bringing modern Irish theatre to the world stage. "The creation of the Field Day Theatre Company by Stephen Rea and Brian Friel provided a platform for the development of a much larger cultural and political agenda. Field Day became a seminal force in Irish theatre since 1980 and its contribution to Irish culture is immeasurable." The production of Friel's 'Translations' was a watershed in the acceptance of Irish theatre in Britain. During its existence, the company produced ten new plays including world premieres of Tom Paulin, Thomas Kilroy, Stewart Parker, Terry Eagleton and Seamus Heaney.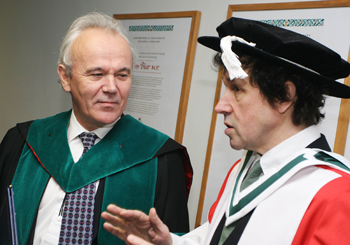 Pictured at the Conferring - Professor William Hall and Stephen Rea
Stephen Rea has continued his commitment to theatre with at least one production every year and with considerable critical success. Notably he received Theatre World and Outer Circle Critics Awards and a nomination for a Tony Award for his Broadway performance in the Frank McGuiness play 'Someone to Watch Over Me'.
While continuing his stage career he has also made remarkable contributions to film and cinema. His introduction to film began with small roles during his London theatre period in the 1970s but in the last two decades he has made more than 40 major films. The first in 1982 'Angel' was directed by Neil Jordan and this led to a long and productive working relationship with Jordan with whom he has now made a total of 8 films. In 1992 he received an Oscar nomination for one of these, 'The Crying Game' for which he was also awarded Best Actor by the National Society of Film Critics.
Outside of his professional life, Stephen Rea has supported a number of organisations assisting the less fortunate in society both here and abroad. He acts as a spokesperson for Cystinosis Ireland, a foundation which raises awareness and funding for a disorder which, although rare, is associated with severe kidney disease and which is uniformly fatal.
He is an ambassador for UNICEF in their HIV/ AIDS programmes in Sub-Saharan Africa. In addition, he has supported research on HIV/AIDS at UCD and provided practical attention to the work carried out at the Centre for Research in Infectious Diseases at UCD.