Posted: 24 January 2008
Hollywood comedian, Will Ferrell at UCD
Hollywood comedy star Will Ferrell who commands up to $20 million per movie was in University College Dublin to receive the James Joyce Award from the Literary and Historical Society (L&H) on 23 January 2008. Over 1,000 students and guests attended the award ceremony.
Ferrell, who took to the stage in an Irish rugby kit, thrilled the massive audience with his acceptance speech and his responses to questions from the audience. "As you all know, I'm kind of a big deal, and this is a big deal," said the comedian accepting the award.
"As I perused my leather bound volumes of Ulysses, Finnegans Wake, Dubliners, and Portrait of the Artist as a Young Man, standing in my mahogany library, a lot of feelings ran across my head, like, man, I should have read these books," he joked.
He continued to explain that indeed there are parallels between himself and the great literary author. "James Joyce spent a lot of his life living outside of Ireland. I too have spent a lot of time living outside of Ireland," he said.
Ferrell achieved global movie stardom in 2003, following his role in the hit comedy Elf in which he played an oversized elf. His role in the film helped turn a modest budget film into a surprise box-office smash.
He found critical acclaim, and a second Golden Globe Nomination, for his role in Stranger than Fiction in 2006, where he plays an IRS auditor, who suddenly becomes the subject of an ongoing commentary only he can hear.
In 2007, he starred as a high profile ice skater in the comedy film Blades of Glory which collected around €100 million at the box-office.
In his film roles, Ferrell has discovered comedy gold in the world of sport. His next major release is Semi-Pro, where he plays the owner, coach and star player of a baseball team.
Previous recipients of the James Joyce Award include: former UN weapons inspector, Hans Blix; author, Bill Bryson; philosopher, Professor Richard Swinburne and actor, Ralph Fiennes. Over the years, every Taoiseach and President has addressed the society.
"Mr Ferrell receives the James Joyce Award for his tremendous contribution to the field of comedy entertainment, as a comedian, writer and actor," said Michael McGrath, Auditor, 153rd Session, Literary and Historical Society, UCD.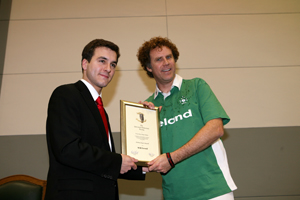 Hollywood actor Will Ferrell receiving the James Joyce Award from Michael McGrath, Auditor, 153rd Session, Literary and Historical Society.
Biography
Ferrell was born on 16 July 1967 in Irvine, California. After graduating from the University of Southern California with a degree in sports information, he worked as a sports broadcaster on a weekly cable TV show. After attending classes in acting and stand-up comedy at a local community college, he joined the Groundlings, an infamous L.A. comedy improv group. It was from here that he was discovered by "Saturday Night Live". In 1995, he became a feature cast member at SNL and spent seven years there performing a wide range of impersonations. In 2000, he was nominated for an Emmy for his impersonation of George W. Bush during the US elections.
In 2002, he departed from SNL to follow a career in film. His film roles include: Semi-Pro (2008); Blades of Glory (2007); Curious George (2006); Stranger Than Fiction (2006); Talladega Nights: The Ballad of Ricky Bobby (2006); The Wendell Baker Story (2005); Bewitched (2005); Kicking & Screaming (2005); The Producers (2005); Anchorman (2004); Melinda and Melinda (2004); Winter Passing (2004); Old School (2003); Elf (2003); Jay and Silent Bob Strike Back (2001); Zoolander (2001); Drowning Mona (2000); The Ladies Man (2000); The Suburbans (1999); Austin Powers: the Spy Who Shagged Me (1999); Dick (1999); Superstar (1999); A Night At the Roxbury (1998); and Austin Powers: International Man of Mystery (1997).