Posted: 06 February 2008
'Road to Beijing Olympics' programme announced at UCD
Details of the Irish Beijing Olympic programme were announced at a Chinese themed event for school children at the UCD Sport Centre on Tuesday 05 Feb 2007.
"We expect a team of up to 50 athletes from 12 sports to challenge for Olympic honours in Beijing", said Pat Hickey, President of the Olympic Council of Ireland, speaking at the event.
"To date 18 Irish athletes had qualified for Beijing and the pace of qualification is likely to pick up in the coming weeks. We expect to have more qualifiers in boxing next month and are keeping our fingers crossed for both the men's and women's hockey teams as they enter very tough qualification tournaments".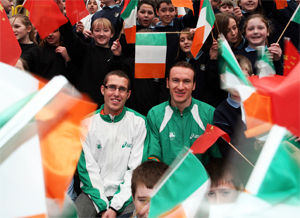 Pictured at the announcement of the Road to Beijing Olympic programme at the UCD Sports Centre were Irish hopefuls Martin Fagan (Marathon) with Paul Hession (Athletics) and school children from Synge St. CBS, St. Marys Howth and Clonskeagh Mosque School.
"A focus on qualification is just one part of our extensive 'Road to Beijing' programme", he explained. "The OCI is also doing a lot of work on issues such as acclimatisation and team support preparation, and we have created a high powered medical structure for Olympic athletes in conjunction with the Mater Private and Cappagh Hospitals"
The Chinese themed event at the UCD sports centre was also attended by the Minister for Integration, Conor Lenihan TD; the Chinese Ambassador to Ireland, Liu Bewei; Dublin City Manager, John Tierney; and children from several Dublin and Belfast schools.
The 'Road to Beijing' is part of a wider calendar of events organised by Dublin Chinese New Year Festival Association recently established by Dublin City Council.
"The aim is to expand the Festival into a major annual event across many venues in the city. And we are delighted that one of the main highlights of this year's festival was held in Belfield," said Mary Ruane, Chairperson of the Dublin Chinese New Year Festival Association, and Director of the UCD Applied Language Centre.
"A very successful feature of the event was the involvement of UCD Sports Clubs in organising a full morning proramme of activities for the children. The clubs were Aikido (Dermot Moran), Table Tennis (Richard Butler), and Trampoline (Darren Costello)."
At the event, an Olympic Resource Pack with information on Beijing and the Irish challenge was presented to teachers from Dublin and Belfast schools including Synge Street NS, Dublin; Priory College, Hollywood, Belfast; Muslim National School, Clonskeagh and Scoil Mhuire NS, Howth.
It was also announced at the event that Scoil Mhuire National School, Howth, would be the Irish partner in a student link-up with a school in Beijing as part of the 2008 Olympic 'Heart to Heart' project. "The Games organisers have nominated the Beijing Dong-Gaodi Foreign Language School in the Fentai district to work with Scoil Mhuire on a range of cross cultural themes. 250 Chinese children will now learn about Irish culture and vice versa"
"UCD is proud to host this event at its Sports Centre in Belfield," said Dr Padraic Conway, Vice-President for University Relations, UCD. "The university has a long tradition of educating and training many of Ireland's top athletes and sports leaders", he said.
"This meeting between some of the athletes who will represent Ireland at the Beijing Olympics and school children from schools, North and South, will help to spark the enthusiasm of some budding Olympic athletes who could represent Ireland in future years. We look forward to your successes."
"As one of the important members of the International Olympic family in Europe, the Irish team are most welcome to this great event in Beijing," said the Chinese Ambassador, Mr. Liu Biwei.