Posted: 14 February 2008
Harry Potter author, JK Rowling at UCD
JK Rowling visited UCD to receive the James Joyce Award from the UCD Literary and Historical Society on 12 February 2008. The lecture theatre, which was packed with more than 600 guests, erupted into spontaneous applause as the entire audience rose to their feet to greet the world famous author when she arrived.
Rowling, who gave an intimate reading from the seventh and final book in the Harry Potter series, Harry Potter and the Deathly Hallows, took part in a 30 minute questions and answers session with the audience. She responded to a series of questions on her writing career and her fictional characters.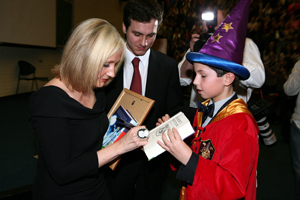 Pictured at the Event: Michael McGrath Auditor The Literary and Historical Society with JK Rowling and Harry Potter fan Leonard Caprani age 10 from Clonskeagh, Dublin.
At the end of the session, she responded to an audience question about whether she would consider writing another Harry Potter book by saying 'I do feel that the Harry story is now done' but that she could 'never say never' to writing another Harry Potter book.
To finish the special event, Rowling met with members of the audience to sign copies of well-leafed Harry Potter books which the guests had brought with them on the night.
"JK Rowling's work has fostered an appreciation in literature in millions of readers worldwide, and her imagination and creativity have captivated an entire generation," said Michael MacGrath, Auditor, UCD Literary and Historical Society.
"She receives the James Joyce Award for her tremendous contribution to the field of literature, both in terms of the quality of her work and the impact that it has made over the last decade."
The James Joyce Award is named after one of the Literary and Historical Society's most notable alumni, James Joyce, and is presented to individuals who have achieved considerable success in the course of their lives and careers.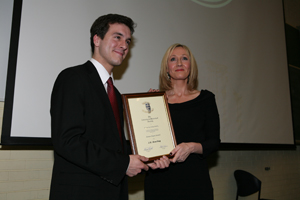 Michael McGrath, Auditor, The Literary and Historical Society with JK Rowling.

Previous recipients of the award include former UN weapons inspector Hans Blix, actor Ralph Fiennes, Oxford philosopher Professor Richard Swinburne, economist Johann Norberg, author Bill Bryson and Hollywood comedian Will Ferrell.