Posted: 28 April 2008
Leading medical schools join forces to strengthen Ireland's profile in health research
3 of 19 Molecular Medicine Ireland fellowships awarded to clinician scientists based at UCD
The Presidents of the University College Dublin, NUI Galway, University College Cork, the Provost of Trinity College and the Registrar of the Royal College of Surgeons in Ireland have established a charitable company to coordinate their health research activities. The company, Molecular Medicine Ireland will strengthen Ireland's profile in health research by combining and building on the biomedical research strengths of each institution. Molecular Medicine Ireland will accelerate the translation of recent rapid advances in science into new ways of understanding disease and new diagnostics, drugs and devices to treat illness and protect the health of people in Ireland.
Pictured far right: (front row, l-r) Dr Pat Morgan, Dean of Graduate Studies at NUI Galway representing the President Prof Jim Browne; Dr Mike Kamarck, Chair of Molecular Medicine Ireland; Minister Mary Hanafin.
Back row (l-r): Dr Ruth Barrington, Chief Executive, Molecular Medicine Ireland; Dr Hugh Brady, President UCD; Dr John Hegarty, Provost Trinity College Dublin; Dr Michael Murphy, President UCC; Michael Horgan, Registrar, Royal College of Surgeons.
Molecular Medicine Ireland is funded by the Government's Higher Education Authority under the Programme for Research in Third Level Institutions Cycle 4. Molecular Medicine Ireland replaces the Dublin Molecular Medicine Centre which, since 2002, has coordinated the biomedical research activities of University College Dublin, Trinity College Dublin and the Royal College of Surgeons in Ireland.
"Building on the considerable strengths of the member institutions in medical research, Molecular Medicine Ireland creates a critical mass of expertise and infrastructure in medical research. It sends a strong message that this country is a good place in which to do research," said Dr Mike Kamarck, Chair of Molecular Medicine Ireland and Executive Vice-President of Wyeth.
"Molecular Medicine Ireland will assist the institutions build a sustainable system of world class teams in biomedical research, which is a key goal of Government science and technology policy" said the Minister for Education and Science, Mary Hanafin who officially launched Molecular Medicine Ireland in Dublin on 17 April 2008. The Minister praised the foresight of the heads of the five institutions in taking this important step towards developing a world-class system in health research in Ireland.
"Molecular Medicine Ireland has taken the initiative, with its member institutions, to train tomorrow's leaders in health research," said Dr Ruth Barrington, Chief Executive of Molecular Medicine Ireland. "With funding of €10m awarded by the Higher Education Authority, Molecular Medicine Ireland has put a fellowship programme in place to train medical graduates as clinician scientists. Clinician scientists are trained in both the clinical care of patients and in the biological sciences that are revolutionising the practice of medicine. Each of the newly appointed fellows will undertake a PhD in one of the five member institutions and will also participate in a shared career development programme organised nationally by Molecular Medicine Ireland while undertaking his or her doctorate."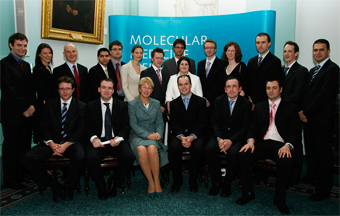 Minister Hanafin with the 19 Fellows selected to participate in the Clinician Scientist Fellowship Programme run by Molecular Medicine Ireland.
3 of 19 Molecular Medicine Ireland fellowships awarded to clinician scientists based at UCD
The MMI fellows will take part in a 3-year structured PhD programme, which gives them the opportunity to build on their clinical experience by expanding their research expertise. They will continue to take clinical sessions in their hospitals but will have capacity to undertake lab-based research in their specialist area.
Dr Eoin Feeney, University College Dublin (UCD)
Research area: examining the early effects of antiretroviral drugs on mitochondrial DNA and genes regulating lipid metabolism.
Since their introduction in the 1990s, highly active antiretroviral drugs have greatly improved the survival rates of people with HIV. However, as therapy is lifelong, concerns have arisen over the long-term side effects.
HIV lipodystrophy is the most common long term side effect of antiretroviral therapy for treatment of HIV. This is a heterogenous syndrome associated with central adiposity, subcutaneous fat wasting (lipoatrophy) as well as dyslipidemia and type 2 diabetes. This is a heterogenous syndrome associated with excessive abdominal fat as well as abnormal blood lipid profile and type 2 diabetes.
Feeney will investigate the expression of genes associated with mitochondrial function, lipid metabolism and insulin metabolism in fatty tissue obtained from large international trials conducted in Australia, the Netherlands and Thailand. These trials include samples from HIV infected and uninfected individuals both before and after therapy. These can be correlated with clinical and biochemical findings from these trials.
He will work with Patrick Mallon, Consultant at the Mater Misericordiae University Hospital.
The study aims to gain a greater understanding of the effects, develop an in vitro model and allow the development of both safer antiretroviral medications as well as potential therapies for this condition.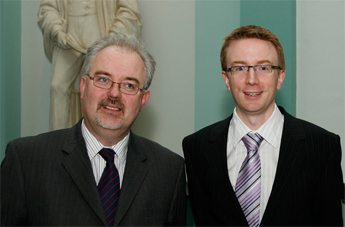 Pictured at the event: Prof Bill Powderly, UCD School of Medicine & Medical Science & Dr Eoin Feeney
Patrick Collier, University College Dublin (UCD)
Research Area: investigating the role of Endothelial to Mesenchymal Transition in Cardiac Fibrosis
Heart Failure is an emerging epidemic due in part to the increasing age of our population and also to the prolonged survival of individuals with cardiovascular disease. Diastolic Heart Failure (DHF) accounts for over half of these cases and it is estimated that the total cost of DHF care in Ireland likely exceeds 100 million per annum or just less than 1% of the entire HSE budget. Here, in parallel with the lack of evidence-based treatments, mortality rates remain unacceptably high.
DHF is characterised by reduced cardiac compliance due to increased stiffness of the cardiac tissue that occurs as a result of exaggerated fibrosis or scarring. The scarring is caused by disease or injury and Collier is particularly interested in hypertensive heart disease.
His research investigates the reversible ability of endothelial cells within the heart to develop a fibroblast-like phenotype via endothelial to mesenchymal transition (EMT) and contribute to the process of exaggerated fibrosis in DHF. This translational research builds upon an established collaboration between Professor Ken McDonald and Dr John Baugh in the UCD Conway Institute of Biomolecular and Biomedical Research.
It will test the hypothesis that EMT occurs as a consequence of vascular injury in hypertensive patients, predisposing them to exaggerated myocardial fibrosis, diastolic dysfunction and diastolic heart failure. By developing an in-vitro model using primary human coronary artery endothelial cells, potential promoters [pro-fibrotic agonists, stretch, pathological extra-cellular matrix, coronary sinus serum from hypertensive patients with differing degrees of diastolic dysfunction, primary cardiac fibroblasts from patients with macroscopic evidence of cardiac fibrosis] and inhibitors [BNP and statins] of EMT will be investigated.
Ultimately, by targeting this reversible pathway, the research outcomes may help prevent adverse cardiovascular remodeling and thus make inroads into reducing the significant disease burden caused by diastolic heart failure.
Aidan Ryan, University College Dublin (UCD)
Research Area: investigating the therapeutic potential of lipoxins and lipoxin analogues in diabetic nephropathy.