Posted: 29 April 2008
Leaders of tomorrow - UCD Smurfit School students claim top prize at Accenture Awards
Two students from the UCD Michael Smurfit Graduate Business School have scooped the top prize at the inaugural Accenture Leaders of Tomorrow Awards. The students, Laura McGreal from Castlebar, County Mayo and Annemarie McCormack from Stillorgan, County Dublin, who are both Masters students in Strategic Management and Planning, will now participate in the Accenture Global Leadership Experience - a tour of Accenture sites in the US, India and France.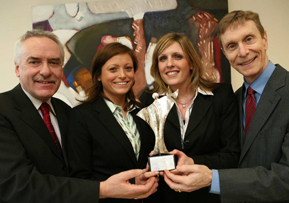 UCD Michael Smurfit Graduate School of Business students
Annemarie McCormack (centre left) and Laura McGreal (centre right),
who won top prize at the Accenture Leaders of Tomorrow Awards,
pictured with Sean Murray, Director of Marketing, UCD Michael Smurfit Graduate School of Business, (Left) and Professor Tom Begley,
Dean of Business, University College Dublin (right).
A second team from the UCD Michael Smurfit Graduate Business School - CEMS Masters students Florian Windeler from Vienna, Michele Minetti from Stockholm, and Enrico Fontana from Copenhagen - also successfully reached the finals of the awards.
Open to third-level graduates across the country, the Accenture 'Leaders of Tomorrow Awards' seek to recognise, identify and foster the next generation of talent that will help shape the future public, private and social landscape of Ireland.
"We were delighted with the standard of entries for the inaugural Leaders of Tomorrow competition, which has seen a fantastic response from our third level institutions," said Mark Ryan, Country Managing Director for Accenture in Ireland. "The calibre of the judges on our panel is further endorsement that leadership and the nurturing of future talent are seen as a key priority across Ireland's public and private sectors."
Chosen from the top ranks of the Irish private and public sectors and Accenture personnel, the judging panel included Donal Forde, Managing Director, AIB; Julie O'Neill, Secretary General, Department of Transport; Paul O'Riordan, Managing Director, Oracle Ireland; Mark Ryan, Country Managing Director, Accenture Ireland; Marian Corcoran, Head of Management Consulting, Accenture Ireland and Ismail Amla, Head of Human Capital Strategy, Accenture Global.
The finalists included a mixture of groups and individuals drawn from Ireland's third level graduate community, with representatives from the UCD Quinn School of Business, the UCD Michael Smurfit Graduate Business School, NUI Maynooth, and Dublin City University (DCU).
The winning prize is designed to provide the students with a hands-on understanding and appreciation of the changing business, technology and leadership landscape which faces Irish leaders today. The tour will include visits to Bangalore, India (an emerging economy), Sophia Antipolis, France (a centre of innovation) and New York City, USA (a global business hub).
Accenture
Accenture is a global management consulting, technology services and outsourcing company. Combining unparalleled experience, comprehensive capabilities across all industries and business functions, and extensive research on the world's most successful companies, Accenture collaborates with clients to help them become high-performance businesses and governments. With 178,000 people in 49 countries, the company generated net revenues of US$19.70 billion for the fiscal year ended Aug. 31, 2007.