Posted: 13 June 2008
€18 million investment to help fight against skin diseases

The largest single investment into dermatological research and training in Ireland
Details of a new facility dedicated to dermatology in Ireland were announced on 13 June 2008 by the Board Members of the City of Dublin Skin and Cancer Hospital and University College Dublin.
The Charles Institute, named in honour of Andrew Charles, the founder of the original skin hospital in Hume Street, will recruit upwards of 50 scientists, graduate students and medical practitioners and will be devoted to research in skin conditions and the training of health professionals in dermatology.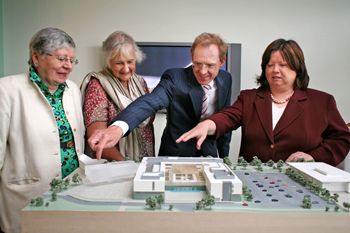 The Minister for Health and Children, Mary Harney TD (right); Dame Beulah R Bewley DBE (centre-left), niece of Andrew Charles; Norma Futers (left), granddaughter of Andrew Charles, and Dr Paul Collins, Consultant Dermatologist, St. Vincent's University Hospital, pictured with an architectural model of the Charles Institute at the announcement on 13 June 2008 at UCD

"I am delighted to launch this important research initiative in the area of skin disease. Skin conditions affect so many people, in so many ways and for some, all through their lives. I am confident that the Charles Institute will contribute significantly to the successful treatment of skin conditions resulting from research initiated at the Institute," said the Minister for Health & Children, Ms Mary Harney T.D, who officially launched the initiative.
The new 2,000 square metre institute will be built on the UCD campus at Belfield at a cost of €18 million. €12 million of this funding comes from the Board of the City of Dublin Skin and Cancer Hospital from the sale of the Hume Street Hospital site, and €6 million funding is from University College Dublin.
"Funding for this project has come largely from the proceeds of the sale of the Dublin City Skin and Cancer hospital, Hume Street. I would like to take this opportunity to acknowledge the great work of the hospital in the area of dermatology over many years," said the Minister.
Skin conditions are the fourth most common reason for GP visits in Ireland. Each year, 15% of all GP visits are because of a skin complaint. The prevalence of skin diseases such as skin cancer, leg ulcers, and atopic eczema has increased steadily over the past 20 years. Indeed, skin cancer is the commonest form of cancer in Ireland. And today, between 25% and 33% of the Irish population suffer from a dermatological condition at any one time.
The incidence of malignant melanoma, a potentially fatal skin cancer is rising in Ireland – with approximately 600 people being diagnosed with melanoma of skin every year. A further 6,200 people are diagnosed with non-melanoma skin cancer each year.
Studies also show that up to 20% of Irish children have suffered from atopic eczema by the age of 4. With this inflammatory disease, the skin barrier is disrupted and the skin becomes dry and prone to infection. This leads to great distress in affected children sufferers and their parents as the condition is exacerbated by soap and detergents making washing and hygiene a real problem in the home.
Psoriasis is another common skin disease that causes huge distress and for which treatment remains elusive. The condition appears as unsightly patches (plaques) that can itch, form painful splits in the skin and can cause painful joints.
"Chronic skin disease has a significant impact on quality of life for sufferers and their families," says Dr Paul Collins, Consultant Dermatologist at St Vincent's University Hospital. "And although these conditions are not fatal, many patients are susceptible to disturbed body image, lack of confidence and depression."
"The conditions can prove physically disabling, disfiguring, painful and intensely irritating, and often result in loss of sleep, disruption to family life, teasing and bullying in school, difficulty in achieving employment and problems in forming social relationships," explains Dr Collins.
"Building on the legacy of the City of Dublin Skin and Cancer Hospital, the Charles Institute will launch new research investigations into the understanding and the treatment of dermatological conditions," says Professor Desmond Fitzgerald, Vice-President for Research at University College Dublin.
"The new Institute will be physically located at the UCD Belfield campus between the UCD Conway Institute and the new UCD Health Sciences Centre which houses the disciplines of medicine, nursing, midwifery, physiotherapy and diagnostic imaging. This will create a unique health and biomedical sciences complex with the Charles Institute at its centre."
"Most GPs in Ireland only learn about dermatology through exposure to skin disease in their daily practice. Even primary care nurses, 25% of whose caseload is patients with skin disease, have had no formal training programme in dermatology," says Mr Peter O'Flanagan, Chair of the Board of the City of Dublin Skin and Cancer Hospital.
"The Charles Institute will provide for the future training of all healthcare professionals dedicated to curing skin disease. It will coordinate a national programme of continued medical education and patient advocacy to improve the well-being of patients suffering from dermatological conditions."
"Working in collaboration with dermatological services in our affiliated hospitals, the Mater Misericordiae University and St Vincent's University Hospitals, and with other dermatological services nationally, the Charles Institute will enhance bench-to-bedside research ensuring that new discoveries in the field are readily available to patients suffering from dermatological conditions," adds Professor Des Fitzgerald.
Skin Cancer
Every year, approximately 6,800 people in Ireland are diagnosed with skin cancer (6,200 with non-melanoma skin and 600 with melanoma of skin). Exposure to the sun is the main cause of skin cancer. This does not just mean sunbathing; as you are exposed to the sun every time you do anything out of doors including gardening, walking, sports, or a long drive in the car (even with the windows closed).
Anyone can develop skin cancer and the risk increases over time. However some people are more likely than others including: people with fair skin that burns easily, People with light coloured eyes, people with red or blonde hair, people with freckles, people who have had heavy sun exposure in the past, and those people with a family history of skin cancer.
Treatment of skin cancer is much easier if the cancer is detected early. Most skin cancers, if treated early, can be cured.
Atopic Eczema
Atopic eczema is a dry, itchy inflammation of the skin. It can affect any part of the skin, including the face, but the areas most commonly affected are the bends of the elbows, around the knees and around the wrists and neck. It usually starts in the first weeks or months of life and although most common in children (affecting at lease 10% of infants) it can carry on into adult life.
The causes of atopic eczema are still not fully understood. It is hereditary but research into the genetic causes is still in its infancy. If one or both parents suffer from eczema, asthma or hay fever, it is more likely that their children will suffer from them too. Certainly the condition is exacerbated by soaps and detergents that strip the protective oils from the vulnerable skin.
Eczema cannot be cured but there are many ways of controlling it. Most children improve as they get older (75% clear by their teens).
Psoriasis
Normally the skin regenerates every 3-4 weeks. With psoriasis, this process speeds up and the process happens every 3-4 days causing severe discomfort for the sufferer.
Psoriasis appears as unsightly patches (plaques) on the skin. The patches are red but covered with silvery white scales. The persistent plaques tend to appear symmetrically, most often on the knees, elbows, trunk and scalp.
One of the main problems for psoriasis sufferers lies in the way it looks and the social implications of the skin disease which severely affect the quality of life of the sufferer.
There is no cure for psoriasis but there are effective cream and lotion treatments to control the symptoms of mild psoriasis. A patient with extensive psoriasis will need to attend a dermatology outpatient unit or be admitted to a dermatology ward for 3-4 weeks for treatment. Even following effective treatment, there is a tendency for the symptoms of psoriasis to return.
Acne
Acne is a common condition which usually starts in puberty with its characteristic spots appearing on the face, neck, chest and back. For the majority of people, the acne bacillus which lives on the skin causes no problems. However, the sebaceous glands of people who suffer from acne are particularly sensitive to normal blood levels of testosterone which causes the glands to produce excess oil. And this, coupled with the improper shedding of dead skin cells which block up the follicles, creates an ideal environment where the bacteria can multiply causing a reaction resulting in red or pus-filled spots. Apart from the social pressures experienced by acne sufferers, the skin condition can result in permanent scarring of the skin.
There is currently no treatment which can completely cure acne. Existing treatments act to prevent new spots forming, to reduce those already present and to prevent scarring.