Posted: 27 June 2008
Experience and the God beyond
To ask whether God exists, one needs to have some understanding of what is meant by 'God.' And if God does exist this will have self-involving implications for human existence, according to Dr Paddy Masterson the author of a new book: The Sense of Creation.
In his new work, Masterson focuses on the idea of creation, not in the crude sense with which the term is often evoked in debates between scientists and so-called creationists, but as evoking what he calls 'the asymmetrical relationship' between the world and God – meaning that the world is really related to God in a relationship of total dependence but God is in no way related to or modified by the created world.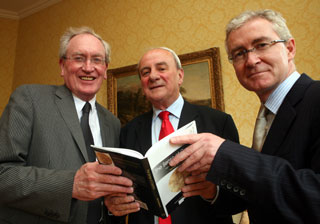 Dr Art Cosgrove, Former President of UCD (1994 - 2003), Dr Paddy Masterson, Former President of UCD (1986 - 1993), and Dr Hugh Brady, President of UCD, at the official launch of 'The Sense of Creation' at Newman House, Dublin
The three fundamental strands or questions in which this asymmetrical relationship is teased out by Masterson are: the question of meaning, the question of existence and the question of co-existence. The book explores various 'ciphers' of the asymmetrical relationship through an engagement with philosophers as diverse as Aquinas and Levinas and through reflection on our knowledge and our relationships, particularly on the sense of obligation we feel to vulnerable neighbours.
"This work is a major contribution to contemporary philosophy of religion and its value as a reality-check to some of the more over-heated current debates in this philosophical space will continue to be appreciated for decades to come," says Dr Padraic Conway, Vice-President for University Relations at UCD and Director of the International Centre for Newman Studies, who officially launched the book at Newman House on 25 June 2008.
The Sense of Creation, published in the Ashgate Philosophy of Religion Series, is described by Professor Richard Kearney of Boston College as: 'combining 'the best traditions of metaphysics and the most cutting-edge debates of contemporary thought'.