Posted: 02 September 2008
Exchange agreement strengthens Sino-Irish university relations
Shenzhen University (SZU), China, and University College Dublin have signed an agreement to enhance educational and intercultural cooperation between the two universities. The agreement will strengthen exchanges between students and academic staff, and assist with the development of joint graduate programmes. As part of the agreement, the universities have initiated a joint '3+1+1' degree programme in Law and a new student exchange programme.
Shenzhen is a rapidly expanding city situated to the north of Hong Kong in the Chinese province of Guangdong. It was renamed Shenzhen City, from Baoan County, in 1979, and in 1980 it was selected as the first Special Economic Zone of China. From 1980 to 2004, Shenzhen's economy, driven mainly by exports, has been expanding at an average rate of 28% per year. Last year, its exports reached $168.2 billion, making Guangdong the richest province in China.
Pictured far right: Shenzhen University Campus
A special delegation from Shenzhen University led by Professor Zhang Bigong, President of Shenzhen University, recently visited University College Dublin to meet with UCD representatives from the UCD School of Law, the UCD School of Business, and the Irish Institute for Chinese Studies at UCD. During their visit, the SZU delegation signed the new agreement and reviewed an existing joint academic programme between Shenzhen University and the UCD Smurfit Graduate School of Business.
"This signing ceremony marks an historical moment and is a milestone in the continuing development of cooperation between UCD and SZU," said Professor Zhang Bigong, President of Shenzhen University. "I believe that UCD will become a favourable destination of choice for our students to pursue graduate studies in the near future."
"UCD has enjoyed cooperation and friendship with Shenzhen University over the past couple of years. This new agreement will greatly enhance future cooperation between our two universities," said Dr Hugh Brady, President of UCD.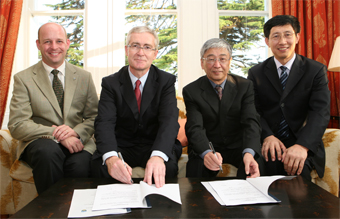 Signing the agreement (l-r): Dr Philip Nolan, Registrar and Vice-President for Academic Affairs, UCD; Dr Hugh Brady, President of UCD; Professor Zhang Bigong, President of Shenzhen University; and Professor Gao Litian, Director, International Office, Shenzhen University.
In the proposed joint programme with the UCD School of Law – the '3+1+1' degree programme in Law - both universities have agreed to establish academic structures which will enable students from Shenzhen who have completed their first three years of undergraduate study in China to undertake a Pre-Masters Studies course developed by the Irish Institute for Chinese Studies at UCD. Following the successful completion of this course, Shenzhen students, having met the entry requirements of the UCD School of Law, will be eligible to formally register for LLM degree study. Successful students will be awarded a Bachelor's degree from SZU and a LLM from UCD.
Shenzhen University is now the third potential Chinese educational partner for UCD student exchange programmes, following previous agreements with Renmin University and Fudan University. Founded in 1983, Shenzhen University offers 54 undergraduate programmes and 66 masters and doctoral programmes through 22 schools. It currently has over 20,000 full-time students, 18,000 part-time students and more than 1,200 academic staff. Every year the university hosts 920 international students from over 40 countries. Through its international office, Shenzhen has established over 60 partner or collaborative institutions of higher learning throughout the world. The President of Ireland, Mary McAleese was awarded an honorary professorship by Shenzhen University in 2003.