Posted: 29 September 2008
The Fifth Beatle, Sir George Martin honoured by L&H Society
In recognition of his lifetime contribution to the world of music as a producer and arranger, the man known as the Fifth Beatle, Sir George Henry Martin received the James Joyce Award from the UCD Literary and Historical Society on Friday 26 September at UCD, Belfield.
"I am very honoured to be asked to do this. This is a great university you have got here and this is a great thing I've been asked to do. I'm really very, very pleased," said Sir George Martin, before receiving the award.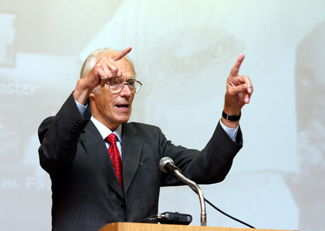 Sir George Martin speaking to students at the Literary & Historical
Society at UCD
"Sir George Martin was instrumental in providing the world with some of the finest music of our time," said Ian Hastings, Auditor of the UCD L&H Society. "His work with The Beatles and a host of other artists represents a truly invaluable contribution to music history, and as such is most deserving of the James Joyce Award".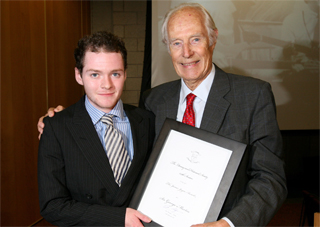 Ian Hastings, Auditor of the UCD L&H Society presents Sir George Martin with James Joyce Award
Record producer, music arranger and composer, Sir George Henry Martin CBE, is often referred to as "the Fifth Beatle" due to his role as producer or co-producer of The Beatles' records. He is considered one of the greatest record producers of all time. In recognition of his services to the music industry and popular culture, he was made a Knight Bachelor in 1996.
The award is named after one of the L&H Society's most notable alumni and is presented to individuals who have achieved considerable success in the course of their lives and careers.
Previous recipients of the award include Hollywood comedian, Will Ferrell; author, JK Rowling; actor Ralph Fiennes; and former UN weapons inspector, Hans Blix.