Posted 23 October 2008
Eye from the Irish Sea wins images of research competition
A photographic image showing the intricately shaped iris of a spotted ray from the Irish Sea has won first prize in the UCD Images of Research Competition.
The photograph taken by Edward Farrell from the UCD School of Biology and Environmental Science, during a survey aboard the RV Celtic Voyager, shows the physical adaptation of the ray's iris (the pupillary operculum) which makes it very sensitive to movements within a large visual field.
"I am currently investigating the life-history and population structure of the smooth-hound sharks, Mustelus asterias and Mustelus mustelus, in the North-East Atlantic Ocean," says Farrell.
"These species are relatively small, bottom dwelling sharks which feed mainly on crustaceans. In Irish waters they are common on the east coast, particularly off the Wexford beaches. Very little is known about their basic biological characteristics and even less about their distribution and movements."
According to Farrell, this is the first detailed investigation of these species in the NE Atlantic and will enable an assessment of their abundance, distribution and status. This type of information is vital for identifying population trends and to establish future conservation and management plans.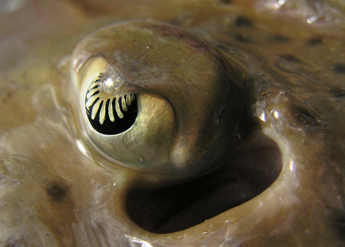 Overall Winner: 'Ray-zor sharp vision'
Image Creator: Edward Farrell, UCD School of Biology and Environmental Science
The annual UCD Images of Research competition aims to discover the most compelling and imaginative research images that convey the depth and diversity of research conducted by UCD researchers.
An expert judging panel reviewed over 300 images which were entered into this year's competition in terms of overall impact, originality, composition, and effective portrayal of research.
Second place in the competition went to 'Just born!' by Mr. Sebastien Puechmaille from the UCD School of Biology & Environmental Science which shows a Cicada drying its wings just after emerging from its exuviae.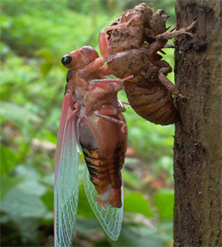 2nd Place - "Just born!"
Image Creator: Sebastien Puechmaille, UCD School of Biology &
Environmental Science
Third place in the competition went to Grainne Meade from the UCD School of Agriculture, Food Science and Veterinary Medicine for her image of snail in a wildlife habitat plot entitled 'Raindrops keep falling on my head'.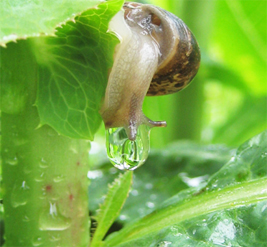 3rd Place - "Raindrops keep falling on my head"
Image Creator: Grainne Meade, UCD School of Agriculture, Food Science and Veterinary Medicine
All research images submitted to this year's competition will be on display in the UCD Research building from Tuesday October 21st to Friday October 24th. The 12 winning research images are used to profile and promote the research conducted by researchers at University College Dublin and will be featured in the UCD Images of Research Calendar for 2009. Images will also be featured online and in university reports
For more visit - www.ucd.ie/research