Posted 11 November 2008
The Global Irish - President Mary McAleese addresses Irish Diaspora Forum

Finding our place in the new world order was a common theme across economic, political, culture and philanthropy discussions at the Irish Diaspora Forum held at the Global Irish Institute at University College Dublin.
An estimated 70 million people worldwide claim Irish ancestry and over one million people born on the island of Ireland live abroad. Over the past decade, the legacy of forced emigration has been replaced by the return of emigrants: some 107,000 have returned to Ireland since 2003. This decline in numbers has affected some traditional Irish communities and the arrival of the "new Irish" abroad who follow the wealth of global opportunities has created greater diversity among the Diaspora.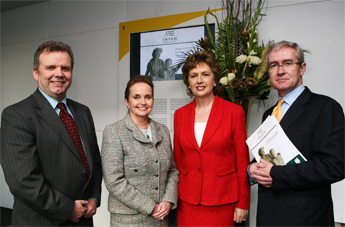 Pictured: Neil O'Dowd, founder of Irish America Magazine and the Irish Voice newspaper, Loretta Brennan Glucksman, Chairman of The American Ireland Fund, Mary McAleese, President of Ireland and Dr Hugh Brady, UCD President
President Mary McAleese paid tribute to the achievements of the Irish Diaspora around the world. She went on to reflect on the rich diversity of that Diaspora and on their continued hunger for a "meaningful connectedness to one another and to Ireland."
"There are subtleties and complexities around the nature of the Irish Diaspora that we need to comprehend." The President said and although there are differences in experience between and among our communities abroad "something palpable in the Irish psyche nudges us to be and keep on being community to one another. A deep appreciation of the emigrant experience and an affinity with a sense of Irishness - however that is interpreted - are defining characteristics of the global Irish family. Our culture and heritage are powerful instruments of connection."
Referring to Barack Obama's success, President McAleese said his election was "transformational in its power and scope and served as a beacon of hope not just for America but for the whole world, particularly in the context of these turbulent times of anxiety and uncertainty that we live in. If ever America and the world needed just such transforming experiences it is now." The President pointed to a whole new set of dynamics that are impacting on Ireland and on the global Irish community. "We too seek a new unity of purpose and people among the Irish at home and abroad. The Diaspora offers an awesome contemporary resource from which to forge new synergies and opportunities for this still new century."
The changing relationship between the US and Ireland was a key focus at the Irish Diaspora Forum.
"There is no more critical relationship economically, politically and culturally than that between Ireland and America. Yet even with such strong community ties this relationship is often taken for granted," said Niall O'Dowd, founder of Irish America Magazine and the Irish Voice newspaper.
"If you consider the world economy, job creation, tourism, the impact of American philanthropy and Ireland's political clout in America, it is abundantly clear that the future of this special relationship remains absolutely vital. This important relationship must be nurtured and sustained by all parties. This forum is the first effort to bring together the best thinkers on both sides of the Atlantic to generate that support."
Calling for a strengthening of U.S.-Ireland ties, President of University College Dublin, Dr Hugh Brady said "The economic changes and political peace that have taken place over the past decade have brought a new confidence to Ireland. Ever since the formation of the State, we have, through organisations such as the United Nations, played our part in the world arena. At the same time, the Irish Diaspora has shared our culture and our heritage with their new communities, particularly in the United States.
"Now is a great time for us to step up this cultural, political and economic exchange as we reach out to form new partnerships and share new experiences." Loretta Brennan Glucksman, Chairman of The American Ireland Fund, said. "The relationship between our two countries is vital and essential to both. As Ireland changes, new opportunities for enhancing and redefining this relationship emerge and both societies throw up important lessons for each other.
"For instance, America's culture of Philanthropy can help motivate those in Ireland, who have become wealthy recently, to deepen their contributions to their society. We are delighted to be supporting this conference as a comprehensive examination of the historic link between the United States and Ireland in the 21st Century," she said.
The Irish Diaspora Forum is hosted by University College Dublin and its partners Irish America Magazine and The American Ireland Fund. Among the speakers are Colin McCrea of Atlantic Philanthropies, the organisation set up by billionaire Chuck Feeney, Kingsley Aikins, President and CEO of the Ireland Funds worldwide, Bruce Morrison, former member of the US House of Representatives, Grant Lally, National Co-chair Irish American Republicans, Hugo MacNeill, Goldman Sachs and John Gilmore, Chief operations officer, Sling Media.