Posted 17 November 2008
150th anniversary of the resignation of John Henry Newman
On 12 November 1858, John Henry Newman resigned, finally and formally, as Rector of the Catholic University of Ireland. To mark the 150th anniversary of this event, the Director of the UCD International Centre for Newman Studies, Dr Pádraic Conway delivered a lecture entitled "When Ideas Fail?" to a packed audience in Room 5 of Newman House, St Stephen's Green.
The venue for the lecture was of special significance, because Newman House was the location where Newman first opened the doors of the Catholic University on 03 November 1854 - an event itself commemorated by the UCD 150 Celebrations of 2004-05.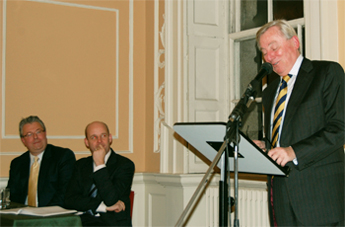 Respondent - Prof Maurice Manning, President, Irish Human Rights Commission, speaking at the 150th anniversary lecture; Dr Pádraic Conway (left), Director UCD International Centre for Newman Studies who delivered the lecture and Dr Philip Nolan (centre), UCD Registrar, who chaired the event
Through the course of the lecture, Dr Conway sketched the circumstances of Newman's actual resignation, its roots in his relationship with the Irish hierarchy of the time – and with the internal struggles within that body, particularly between Archbishops Cullen and McHale.
The lecture also considered the question of how today's University College Dublin relates to Newman's university, steering a middle ground between the view that there is no relationship (because UCD as it is known started in 1908) and the very strong sense of continuity espoused by earlier University College Dublin figures such as former President Michael Tierney.
The anniversary lecture concluded with some reflections on the recent exhumation of Newman's remains and how this fact coupled with Newman's own writings on the theme can help us hold together the ideas of continuity and change.