Posted 17 November 2008
A Degree of honour for Tiffany & Co President
One of the most successful and influential Irish American businessmen in North America, The President of Tiffany & Co, Jim Quinn has been awarded an Honorary Degree of Doctor of Laws by University College Dublin.
"Jim Quinn receives this honour in recognition of his consistent support of the value of education, both in his native New York and internationally, through his membership of the North American Advisory Board of the UCD Michael Smurfit Graduate School of Business," said Professor Tom Begley, Dean of Business at University College Dublin, at the ceremony on 13 November 2008.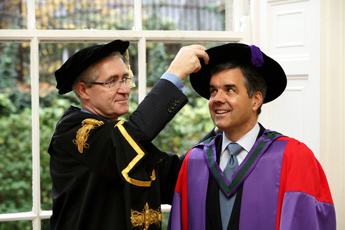 Dr Hugh Brady, President of UCD pictured at the award ceremony with Mr Jim Quinn, President of Tiffany & Co
Since 1837, Tiffany & Co. has been the world's premier jeweler and America's house of design. As president of Tiffany & Co, Jim Quinn oversees retail sales in Tiffany & Co stores worldwide, with responsibility for the company's global expansion strategy, including such notable store openings as the Tiffany & Co store in Beijing, China, in 2002; and very shortly the new store opening in Dublin. Under Jim Quinn's Presidency, Tiffany & Co sales have increased from $1.9 billion to $2.9 billion in 2007 and in the first half of 2008 worldwide sales grew by a further 11%.
"Tiffany & Co is also a world leader and has a proud record in doing business in a socially and environmentally responsible way," said Professor Begley. "Among these initiatives are: Tiffany & Co not using any gemstones originating in Burma and playing a leading role in eliminating the trade in conflict or blood diamonds; Tiffany & Co campaigning for the protection of corals and participating in Seaweb's 'too precious to wear' campaign against the use of natural coral in jewellery; Tiffany & Co promoting responsible mining practises with partners such as Oxfam and Earthworks; and the adoption of a social accountability programme which it applies not just to itself but also its suppliers."
As executive Vice-President of the Tiffany & Co. Foundation, Jim Quinn has overseen many of these initiatives. The Foundation grants money to Seaweb's 'too precious to wear' campaign as well as to other environmental projects in the US and Africa. The Foundation has also endowed a Curatorial Internship in American Decorative Arts at New York's Metropolitan Museum of Art.