Posted 12 December 2008
Science never looked this good - phasing in new science facilities at Belfield
The first phase of the new UCD Science Centre which provides facilities for up to 60 researchers who are working on diverse areas of chemical research including new anti-cancer agents and the recycling of carbon dioxide as a fuel, has been officially opened at Belfield.
The new 4 storey facility was developed at a cost of €6 million following a total refurbishment of one part of the chemistry building, original developed in the 1960's. The new facility was funded through a combination of PRTLI 3 and 4 and HEA Research Facilities Enhancement Scheme
funding combined with additional UCD Research and UCD College of Life Science funds.
The newly developed building houses the latest technology to ensure excellent air quality while meeting the new guidelines for building energy conservation. The façade of the building exceeds building regulations in terms of air tightness and insulation and is 40% more efficient than a traditionally constructed building. The ground floor provides bio-nano science space which is characterised by its flexibility of design to accommodate different research requirements. The first, second and third floors comprise wet chemistry labs with each researcher provided a fume hood, piped gases and write up space. The facility is occupied by researchers in synthetic chemistry and bio-nano science.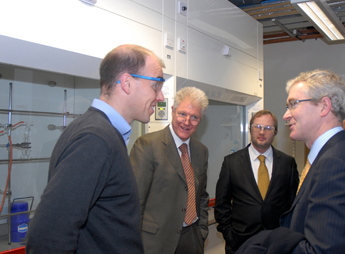 Pictured at the official opening of the first phase of the new UCD Science Centre (left to right): Dr Paul Evans (UCD School of Chemistry and Chemical Biology); Prof Declan Gilheany (UCD School of Chemistry and Chemical Biology); Dr Andrew Phillips (UCD School of Chemistry and Chemical Biology/SFI Stokes Lecturer); and UCD President, Dr Hugh Brady
The project started in early spring 2007 and acted as a testing ground for the €450 million redevelopment of the entire UCD Science Centre. During the official opening, UCD President, Dr Hugh Brady unveiled the latest concept designs by RKD Architects for the transformation of science facilities in UCD.
The next phase, Science South, comprising 6,300 sq. meters is funded under PRTLI 4 and will include facilities for research programmes in biopharmaceutical sciences and bio-nano science, and host the UCD Institute for Food and Health. This phase is at the detailed planning stage and construction will commence mid 2009 with completion due in late 2010.#