Posted 03 March 2009
Data analytics offers commercial and employment opportunities - UCD Clique wins SFI strategic research cluster funding of €3.56 million

In an initiative aimed at creating high-end employment opportunities and driving the knowledge economy agenda, announced by the Tánaiste and Minister for Enterprise, Trade & Employment, Mary Coughlan TD, a team led by UCD's Professor Padráig Cunningham has received strategic research funding for the development of computational techniques that have significant commercial potential.
Funded with €3.56 million through SFI's (Science Foundation Ireland) Strategic Research Cluster programme, Professor Cunningham will lead a team that includes UCD, NUI Galway, IBM, Idiro Technologies and Norkom Technologies. The research programme, named Clique, will build on computing expertise to develop techniques that enable companies to analyse the information they have on their customer and user networks.
The research contributes to the general 'data analytics' business sector. The market for software for business analytics is worth over $20 billion and is growing at a rate of about 10% per annum.
"With this funding we will immediately recruit a further 20 PhD and post-doc researchers. They will work with the existing team to build our capacity for new discoveries that can be commercialised either with our industry partners or through spin-out companies that can be set up and supported by NOVA-UCD, the UCD campus company development programme and the technology transfer office at NUI Galway," said Professor Cunningham.
With the massive expansion of commercial and social networks, companies with potentially huge numbers of users and customers need to be able to capture and interpret patterns of behaviour in order to keep customers and develop new products or services to expand their markets.

Irish-owned Idiro Technologies is one of the industry partners in Clique. Idiro offers a number of software products to the telecommunications industry that enable companies analyse the value of their customers based on their patterns of behaviour and usage rather than simply on their bill payments.
"If a telecommunications company understands their customers in terms of their social behaviour patterns and key influences, they can use this intelligence to cross-sell other products, prevent churning and even build loyalty," according to Aidan Connolly, CEO of Idiro. "We see real commercial benefits to our partnership with Clique. We are really interested in commercialising the output of this research so that Idiro can expand to a global scale."
For Norkom Technologies, the research has potential application in development of software products for the financial services sector, particularly in the areas of fraud detection and financial regulation. One of the areas the Clique team will specifically research is new methods for analysing transaction and customer activity on credit cards in order to improve risk control on stolen or duplicated cards. "Spotting criminal activity is time-consuming and resource-intensive so improved methods for processing networks of financial information will help," said John Keane Director of Product Management and Engineering at Norkom .
IBM's involvement with Clique concentrates on the development of 'social software for business'. Already around 100 staff, representing half of IBM's research and development team for this product range are based in Dublin. The clustering of university researchers and industry development teams is a crucial component in attracting foreign direct investment into high cost economies such as Ireland and IBM Dublin's involvement in Clique will help encourage IBM to locate more research and development in the Dublin lab.
Data analytics is not only applicable to the meta-data associated with social networking sites and e-commerce but also in the area of biological network data. As Professor Cunningham explains, "The transfer of techniques developed for social network analysis to biological networks has had a huge impact in recent years. In the area of biomedical informatics we can begin to build models based on data available right now that can be applied to functional genomic/clinical data that will emerge over the coming years and apply this to human health. This offers opportunities for new drugs and therapies for a variety of diseases and ill-health conditions." In addition to the benefits to the Irish software sector, Clique has the potential to support the Irish biopharmaceutical sector by building capacity through data analytics, speeding up technology transfer from the universities to industry and training the next generation of scientists.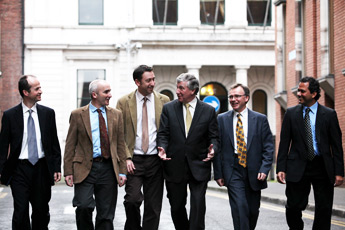 Pictured at the official announcement of the establishment of of 5 New Science Foundation Ireland 'Strategic Research Clusters' on 25 February 2009 (l-r): Prof Miles Turner of DCU - Precision SRC; Prof Pádraig Cunningham of UCD - Clique SRC; Prof Brett Paull, DCU - Irish Separation Science Cluster; Dr Jimmy Devins, TD, Minister for Science, Technology and Innovation; Dr William Donnelly of Waterford Institute of Technology - Federated, Autonomic Management of End-to-end Communication Services (FAME SRC); and Prof. Lokesh Joshi of NUIG - Alimentary Glycoscience Research Cluster (AGRC)
The UCD Clique funding is one of five strategic research clusters announced by the Tánaiste. In total €23.9 million will be invested in these clusters that involve seven universities and ITs with 22 industry partners.
Making the announcement, the Tánaiste said "Science, while engaging and exciting, is also a fiercely competitive arena, and it is increasingly clear that a country's economic fortunes are significantly dependent on its ability to conduct research that translates into economically-beneficial outcomes. The Government's 'Building Ireland's Smart Economy' framework prioritises continued investment in science and engineering infrastructure to assist with the creation of a thriving enterprise sector, high-quality employment and first-class infrastructure. The 170 highly skilled personnel involved in these SRCs, together with the 22 partner companies are central to achieving this," the Tánaiste stressed.
UCD is involved in 4 of the 5 clusters announced by the Minister. Welcoming the announcement, Prof Nick Quirke, Principal of the UCD College of Engineering Mathematical and Physical Sciences said, "We are delighted with the foresight of the Government in funding these clusters and see it as a wonderful opportunity to work collaboratively with industry to develop products and solutions that will see Ireland achieve its aim of a Smart Economy. We at UCD are determined in our hope that the innovative collaborations between UCD and industry will drive changes in the economy and establish Ireland as a centre for research and innovation."
The Clique cluster principal investigators:
Industry Partners
Idiro Technologies
Norkom Technologies Ltd.
IBM
Other collaborators
Professor Desmond Higgins, Professor of Bioinformatics, UCD Conway Institute
Prof. Stephen E. Fienberg
Prof. Adrian E. Raftery
Prof. Nial Friel
Dr. Gerard Cagney