Posted 21 March 2009
UCD Ulysses Medal for President of Stanford University
Stanford University's 10th President, John L Hennessy has been awarded the UCD Ulysses Medal in recognition of his outstanding global contribution to academic research, innovation and university education.
Established in 1891, Stanford is one of the world's leading universities. Its entrepreneurial spirit, the result of its California location, proximity to Silicon Valley, and the legacy of Leland and Jane Stanford, has helped spawn more than 3,000 companies in high technology and other fields including: Google, eBay, and Cisco Systems.
In October 2006, President John L Hennessy announced a university-wide program to seek solutions to the century's most pressing global challenges, enhance the education of future leaders and strengthen Stanford's academic excellence. To enable that effort, the university launched "The Stanford Challenge," a five-year, $4.3 billion fundraising campaign.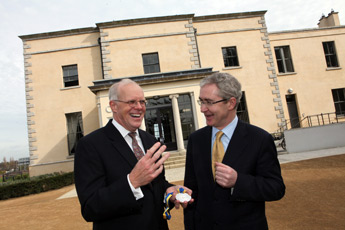 President of Stanford University, John L Hennessy pictured with President of UCD, Hugh Brady at UCD on 16 March 2009

The UCD Ulysses Medal is the highest honour that University College Dublin can bestow. It was inaugurated in 2005, as part of the university's sesquicentennial celebrations, to highlight the 'creative brilliance' of UCD alumnus James Joyce. It is awarded to individuals whose work has made an outstanding global contribution.
Previous recipients of the award include: Nobel economist, Professor James J. Heckman; Dr Phillip Sharp, Nobel Laureate; Professor Klaus Schwab, founder and executive chairman of the World Economic Forum; and the Irish poet, Thomas Kinsella.
The President of Stanford University, John L Hennessy speaking at the award ceremony at Belfield, introduced by the President of University College Dublin, Hugh Brady

Duration
1:04:51
About President Hennessy
John L Hennessy was inaugurated as Stanford University's 10th president in October 2000. From 1999 to 2000, he was the provost of the university; its chief academic and financial officer. As provost, he continued his efforts to foster interdisciplinary activities in the biosciences and bioengineering and oversaw improvements in faculty and staff compensation.
A pioneer in computer architecture, in 1981 John L Hennessy drew together researchers to focus on a computer architecture known as RISC (Reduced Instruction Set Computer), a technology that has revolutionized the computer industry by increasing performance while reducing costs. In addition to his role in the basic research, he helped transfer this technology to industry. In 1984, he co-founded MIPS Computer Systems, now MIPS Technologies, which designs microprocessors. In recent years, his research has focused on the architecture of high-performance computers.
John L. Hennessy joined Stanford's faculty in 1977 as an assistant professor of electrical engineering. He rose through the academic ranks to full professorship in 1986 and was the inaugural Willard R. and Inez Kerr Bell Professor of Electrical Engineering and Computer Science from 1987 to 2004.
From 1983 to 1993, he was director of the Computer Systems Laboratory, a research and teaching center operated by the Departments of Electrical Engineering and Computer Science that fosters research in computer systems design. He served as chair of computer science from 1994 to 1996 and, in 1996, was named dean of the School of Engineering. As dean, he launched a five-year plan that laid the groundwork for new activities in bioengineering and biomedical engineering.
John L Hennessy is a recipient of the 2000 IEEE John von Neumann Medal, the 2000 ASEE Benjamin Garver Lamme Award, the 2001 ACM Eckert-Mauchly Award, the 2001 Seymour Cray Computer Engineering Award, a 2004 NEC C&C Prize for lifetime achievement in computer science and engineering and a 2005 Founders Award from the American Academy of Arts and Sciences. He is a member of the National Academy of Engineering and the National Academy of Sciences, and he is a fellow of the American Academy of Arts and Sciences, the Association for Computing Machinery, and the Institute of Electrical and Electronics Engineers.
He has lectured and published widely and is the co-author of two internationally used undergraduate and graduate textbooks on computer architecture design. Hennessy earned his bachelor's degree in electrical engineering from Villanova University and his master's and doctoral degrees in computer science from the State University of New York at Stony Brook.
In 2005, he became the inaugural holder of the Bing Presidential Professorship.